The Are you a dirty commie ? Test
Their result for The Are you a dirty commie ? Test ...
Material Girl/ Boy
I like Stalin 12 % much.
ALL HAIL THE ALMIGHTY DOLLAR. You aren't ashamed to do what you need to do to live that gratuitous capitalist life style. You like to rock name brand goods, throw around some money and do things just for shits and giggles. You don't want to hear about saving the trees by wiping your ass with sandpaper. You admire a gold-digger, a workaholic or someone who knows how to hustle them gees. Wasteful? Maybe... but hey it's your life and your money. You really don't want to hear any bleeding heart liberals preaching and you certainly don't want to fly economy class. So shake that ass for cash! Just make sure it's the big bucks because you have needs and they ain't cheap!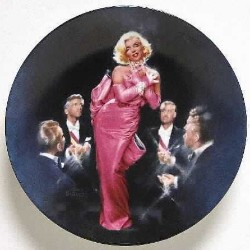 Their Analysis
(Vertical line = Average)
They scored 12% on variable 1, higher than 7% of your peers.
All possible test results
ALL HAIL THE ALMIGHTY DOLLAR. You aren't ashamed to do what you need to do to live that gratuitous capitalist life style. You like to rock name brand goods, throw around some money and do things just ... Read more
So money doesn't buy everything, but it sure helps! Even if you were rich, you wouldn't be the type to flaunt it. You like to live the good life, but you aren't about to have your cell phone covered i... Read more
You are either really cheap or there may be a problem. Are you sure you are living in the U.S.? And you do understand that those little green pieces of paper you receive can be exchanged for more inte... Read more
LOYAL TO MOTHER RUSSIA! The FBI has been notified of your where abouts. You freak.... Read more
Take this test »