The Are You Metal Test
Their result for The Are You Metal Test ...
The True Metalhead
Congratulations! You scored ###%!
If it doesn't metal it doesn't count. Metal's your life, Hate your daily food and making Christians suffer is fun. From Cradle of Filth to Slayer to Abyssos, you've heard them all. I salute you, and rock on.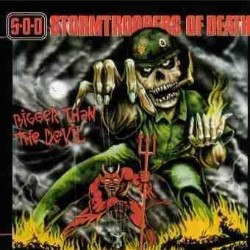 Their Analysis
(Vertical line = Average)
They scored 95% on bolts, higher than 94% of your peers.
All possible test results
The only music you hear besides church music is Brittney Spears and Robbie Williams. You ought to be shot, but I guess it's not worth going to prison to end your miserable existence. Read more
Maybe you've heard of a few metal bands, but only of the ones that turned commercial and produced chart compatible music. You might like Metal, just try it and trash your worthless techno and hiphop r... Read more
Music has to be played loud and with guittars, otherwise it's for wimps. You're not into the really extreme stuff, but you might be seen at Rose Tattoo or ACDC gigs. Fair enough for me, you're a valua... Read more
If it doesn't metal it doesn't count. Metal's your life, Hate your daily food and making Christians suffer is fun. From Cradle of Filth to Slayer to Abyssos, you've heard them all. I salute you, and r... Read more
Take this test »