The Touching You, Touching Me Test
Their result for The Touching You, Touching Me Test ...
Midnight Stroker
Happy Spanking! You stroked ###!
Good for you. It seems you're "in touch" with yourself. You like to spank the monkey every now and then. Once or twice a week with just the standard procedures is enough to get you through the dry spells. Maybe updating your limited collection of porn will enhance your alone time. Practice makes perfect! How else you going to tell a woman what you like?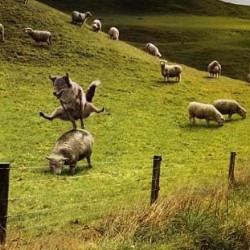 Their Analysis
(Vertical line = Average)
They scored 52% on skinpoints, higher than 72% of your peers.
All possible test results
Congratulations, not. You don't spend enough time with yourself. Or maybe you do and feel no need to rub one out every now and then. Either way, you probably don't own any skin mags or porn flicks. Lo... Read more
Okay, this one is tough. Either your happily JUST married or in a good physical relationship. But don't worry. Your time will come when self gratification will be your only option. You know how to tou... Read more
Good for you. It seems you're "in touch" with yourself. You like to spank the monkey every now and then. Once or twice a week with just the standard procedures is enough to get you through the dry spe... Read more
Hey now! You sieze the moment and have no problem with a little self release when the moment stikes. You probably have a decent collection of porn and visited an adult book store a few times. Hey it's... Read more
You can't keep your hands of yourself. While masturbation is normal, you take it to the next level. Creativity is your strong point. You've also got a wild imagination. Maybe it's time to find a signi... Read more
Take this test »