The Texas History Test
Their result for The Texas History Test ...
You Suck
You scored 67% Historical Accuracy!
well, you might have known one or two, and skipped a couple, you might not have what it takes to be proud of bein a Texan, you might start easy with a simple book, maybe Texas! by JAMES A. MICHENER, its not all that accurate, but its a novel, and youll pick up some history from it, unless you go to OU,in which case, you probably cant read... you might want to move to oklahoma to start your learnin process since they really are just a tiny texas county... remember, some say texas would fall into the gulf, if oklahoma didnt suck, so you'll fit in up there.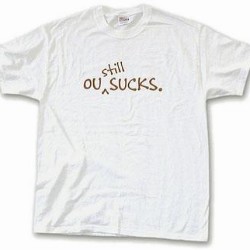 Their Analysis
(Vertical line = Average)
They scored 67% on Historical Accu, higher than 51% of your peers.
All possible test results
Well, you obviously aren't from around here, and you obviously do not know much about Texas, my suggestion is to move to oklahoma... remember, some say texas would fall into the gulf, if oklahoma did... Read more
well, you might have known one or two, and skipped a couple, you might not have what it takes to be proud of bein a Texan, you might start easy with a simple book, maybe Texas! by JAMES A. MICHENER, i... Read more
well, this test was rather rough, you passed, you know what they say, D is for diploma, and you got better than a D, so you can graduate, although, in my school district here in Texas, you had to get ... Read more
you got a B, thats pretty good, you should be proud, this was rather difficult, and you obviously are proud to be a Texan... you might go to a real school like UT or A&M, and you probably hate the oth... Read more
You are awesome. you know your texas history, you probably major in history at texas or texas a&m, we know that no honest texan would cheat, so you have to be academically gifted... im lookin forward... Read more
Take this test »