The Dinosaur Test
Their result for The Dinosaur Test ...
T-Rocks!
You scored 100 %!
You are the ultimate dinosaur. Instantly recognizeable and liked just as well, you can't go anywhere without someone mispronouncing your scientific name. Way to go! Although...you're just a bunch of bones on an armature now, so, go figure. :-/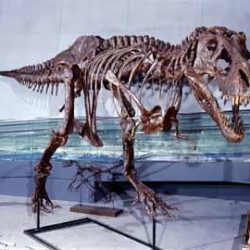 Their Analysis
(Vertical line = Average)
They scored 100% on friendliness, higher than 91% of your peers.
All possible test results
You are the reason people lose hope for themselves. Wicked, foul, and stinky, you make teddy bears cry. Read more
Your lameness knows no bounds. Congratulations, Suckodon. You're the reason the aliens killed all the other cool dinosaurs. Read more
You would have been a dinosaur butt, pure and simple. Congratulations. Read more
You are a cool-looking but ultimately not cool-looking enough dinosaur to warrant 15 minutes of fame, but never really achieve true dino stardom. You're still better than a mammal, though. Read more
You are the ultimate dinosaur. Instantly recognizeable and liked just as well, you can't go anywhere without someone mispronouncing your scientific name. Way to go! Although...you're just a bunch o... Read more
Take this test »