The Survive this Horror Movie Test
Their result for The Survive this Horror Movie Test ...
Survived - Barely
You scored 75% leadership, 73% fortitude, and 68% intelligence
You drop the gun, and sweep Kate into a passionate kiss...she's surprised, but your embrace gives Dante more than enough time to slash at the back of your leg, dropping you to the ground! You scream in pain, and Dante dives on to you, stabbing you clear through the shoulder. He snarls, saliva dripping into your face, but he doesnt notice that you've fallen with the gun easily in reach of your free hand. You grab the pistol, shoot Dante twice in the chest, and heave a sigh of relief. Kate yells that she's going to find help, and miraculously gets the radio in the police cruiser working; medics come and cart you and Tron off to the hospital - unfortunately, Mike's too far gone to save; he passed out from blood loss while you were locking lips with Kate and then wrestling with Dante. You're devastated by the loss, and the trauma of this night drives a wedge between you and Kate that can never be removed...the pain is too much to bear. You got out with your life, but most of your friends didnt.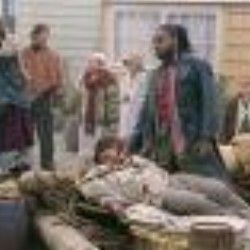 Their Analysis
(Vertical line = Average)
They scored 75% on leadership, higher than 60% of your peers.

They scored 73% on fortitude, higher than 62% of your peers.

They scored 68% on intelligence, higher than 50% of your peers.
All possible test results
You drop the gun, and sweep Kate into a passionate kiss...she's surprised, but your embrace gives Dante more than enough time to slash at the back of your leg, dropping you to the ground! You scream ... Read more
You drop the gun, and sweep Kate into a passionate kiss...she's surprised, but your embrace gives Dante more than enough time to slash at the back of your leg, dropping you to the ground! You scream ... Read more
You drop the gun, and sweep Kate into a passionate kiss...she's surprised, but your embrace gives Dante more than enough time to slash at the back of your leg, dropping you to the ground! You scream ... Read more
You drop the gun, and sweep Kate into a passionate kiss...she's surprised, but your embrace gives Dante more than enough time to slash at the back of your leg, dropping you to the ground! You scream ... Read more
You drop the gun, and sweep Kate into a passionate kiss...she's surprised, but your embrace gives Dante more than enough time to slash at the back of your leg, dropping you to the ground! You scream ... Read more
You drop the gun, and sweep Kate into a passionate kiss...she's surprised, but your embrace gives Dante more than enough time to slash at the back of your leg, dropping you to the ground! You scream ... Read more
You drop the gun, and sweep Kate into a passionate kiss...she's surprised, but your embrace gives Dante more than enough time to slash at the back of your leg, dropping you to the ground! You scream ... Read more
You drop the gun, and sweep Kate into a passionate kiss...she's surprised, but your embrace gives Dante more than enough time to slash at the back of your leg, dropping you to the ground! You scream ... Read more
You drop the gun, and sweep Kate into a passionate kiss...she's surprised, but your embrace gives Dante more than enough time to slash at the back of your leg, dropping you to the ground! You scream ... Read more
You drop the gun, and sweep Kate into a passionate kiss...she's surprised, but your embrace gives Dante more than enough time to slash at the back of your leg, dropping you to the ground! You scream ... Read more
You drop the gun, and sweep Kate into a passionate kiss...she's surprised, but your embrace gives Dante more than enough time to slash at the back of your leg, dropping you to the ground! You scream ... Read more
You drop the gun, and sweep Kate into a passionate kiss...she's surprised, but your embrace gives Dante more than enough time to slash at the back of your leg, dropping you to the ground! You scream ... Read more
You drop the gun, and sweep Kate into a passionate kiss...she's surprised, but your embrace gives Dante more than enough time to slash at the back of your leg, dropping you to the ground! You scream ... Read more
You drop the gun, and sweep Kate into a passionate kiss...she's surprised, but your embrace gives Dante more than enough time to slash at the back of your leg, dropping you to the ground! You scream ... Read more
You drop the gun, and sweep Kate into a passionate kiss...she's surprised, but your embrace gives Dante more than enough time to slash at the back of your leg, dropping you to the ground! You scream ... Read more
You drop the gun, and sweep Kate into a passionate kiss...she's surprised, but your embrace gives Dante more than enough time to slash at the back of your leg, dropping you to the ground! You scream ... Read more
You drop the gun, and sweep Kate into a passionate kiss...she's surprised, but your embrace gives Dante more than enough time to slash at the back of your leg, dropping you to the ground! You scream ... Read more
You put one "good riddance" bullet each into Dante and Dontarius then drop the gun to the ground; you give Kate a reassuring hug, and check to see how Mike and Tron are doing. They're both alive, but... Read more
You drop the gun, and sweep Kate into a passionate kiss...she's surprised, but your embrace gives Dante more than enough time to slash at the back of your leg, dropping you to the ground! You scream ... Read more
You drop the gun, and sweep Kate into a passionate kiss...she's surprised, but your embrace gives Dante more than enough time to slash at the back of your leg, dropping you to the ground! You scream ... Read more
You drop the gun, and sweep Kate into a passionate kiss...she's surprised, but your embrace gives Dante more than enough time to slash at the back of your leg, dropping you to the ground! You scream ... Read more
You drop the gun, and sweep Kate into a passionate kiss...she's surprised, but your embrace gives Dante more than enough time to slash at the back of your leg, dropping you to the ground! You scream ... Read more
You put one "good riddance" bullet each into Dante and Dontarius then drop the gun to the ground; you give Kate a reassuring hug, and check to see how Mike and Tron are doing. They're both alive, but... Read more
You put one "good riddance" bullet each into Dante and Dontarius then drop the gun to the ground; you give Kate a reassuring hug, and check to see how Mike and Tron are doing. They're both alive, but... Read more
You drop the gun, and sweep Kate into a passionate kiss...she's surprised, but your embrace gives Dante more than enough time to slash at the back of your leg, dropping you to the ground! You scream ... Read more
You put one "good riddance" bullet each into Dante and Dontarius then drop the gun to the ground; you give Kate a reassuring hug, and check to see how Mike and Tron are doing. They're both alive, but... Read more
You put one "good riddance" bullet each into Dante and Dontarius then drop the gun to the ground; you give Kate a reassuring hug, and check to see how Mike and Tron are doing. They're both alive, but... Read more
Take this test »
Recent Results
Tests others are taking