The What Sort of Jedi Are You? Test
Their result for The What Sort of Jedi Are You? Test ...
Rogue
You scored 62% in Jedi Force Alignment
You may have began studying as a Jedi or a Sith, but now it doesn't matter to you. They could argue forever and ever about who is good and who is evil. You couldn't care less! You march to the beat of your own drum--no one tells you what to do. If you feel like being bad and having a good time, no one is there to tell you you're wrong! And if once in a while you feel like helping others out, you don't have anyone Force-choking you into their policies. It's good to be free of dogma! If you're feeling in a good mood at the moment, why don't you go ahead and rate my test? Or maybe tell a friend?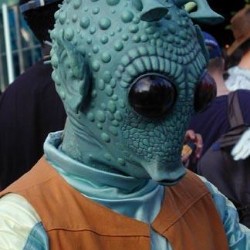 Their Analysis
(Vertical line = Average)
They scored 62% on Force Alignment, higher than 40% of your peers.
All possible test results
I can feeeeeel your anger, it gives you focus! You are a Sith, born to rule the galaxy with an iron fist. Crush those in opposition to your policies, they're just jealous after all! If you think this ... Read more
You may have began studying as a Jedi or a Sith, but now it doesn't matter to you. They could argue forever and ever about who is good and who is evil. You couldn't care less! You march to the beat of... Read more
You are gracious, humble and selfless: you are a Jedi. Your name belongs amongst those of the greats: Mace Windu, Shaak Ti, Kit Fitso. If this is true to your personality, grace me with a good rating,... Read more
Take this test »
Recent Results
Tests others are taking