The Angel Test
Jeremiel
Archangel
Jeremiel
is the Angel of sympathy, prophecy, knowledge and intuition, and judgement. He is involved with the process of attaining wisdom and assists us in tasks that require us to preserve, analyse and apply knowledge. He is an inspirer and awakener of those higher thoughts that motivate us to devote ourselves to spiritual acts of service. Also, he enhances clarity of visions and helps our dreams to become lucid.
Jeremiel helps us see our lives from a loving and tender perspective and enables us to let go of the past and come to terms with changes. He inspires mercy and guides us toward love, kindness, and most importantly, harmony with all aspects of our lives. Whenever we feel the need to take an inventory of our life, so as to make positive adjustments, Jeremiel will be there. He helps us decide which goals are worthwhile and satisfying to pursue, which relationships need to be protected and nurtured, and which aspects of our lives are hurting, angering, or slowing us down and need to be discarded.
Besides helping us to see with clarity while reviewing and summarizing our past and present life, Jeremiel assists us with clairvoyant abilities in our waking and dream life to grant us insight in what is yet to come. He offers comfort whenever the uncertain future is causing us to be anxious. At times when we feel "stuck", spiritually or emotionally, he helps us regain enthusiasm and confidence. After an encounter with Jeremiel, our view on life will have changed and our thoughts will be untangled.
One of Jeremiel's most important tasks is to help newly crossed-over souls to review their lives. This is a service that helps those still living, too, as it comforts them to know that their passed-away loved ones are now in the care of this merciful Angel.
A Bit of Trivia: Being the Angel of Prophesy, Jeremiel guards the knowledge of the exact day of the final judgement. He is titled the Guardian of the Souls and as thus often compared to Hades, the Greek God of the Dead.
Jophiel - Michael - Israfel - Raziel - Ariel - Uriel - Gabriel - Raphael - Zadkiel - Jeremiel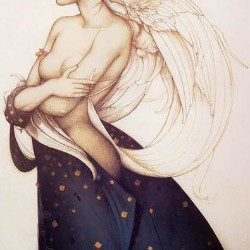 All possible test results
Archangel Jophiel is the Angel of endurance, freedom of thought, wisdom, truth, beauty, and illumination of the mind and spirit. He assists us in absorbing intricate information and in dealing ... Read more
Archangel Michael is the Angel of Miracles who strengthens the spirit during difficult times or dangerous situations. He inspires patience, truth, righteousness, strength, faith, and motivation... Read more
Archangel Israfel is the Angel of beauty, song, counsel, sympathy, and resurrection. He is a compassionate Angel, always inclined to offer comfort and guidance to those who are feeling lost and... Read more
Archangel Ariel is he Angel of courage, nature, and wild beasts. He inspires us to live our life to the fullest and without fear, and to let go of what is hurting or controlling us. He assures ... Read more
Archangel Raziel is the Angel of mystery, mystery, and more mystery. Luckily, he is willing to share his secrets with mankind whom he brings the gift of wisdom and knowledge. He inspires us to ... Read more
Archangel Jophiel is the Angel of endurance, freedom of thought, wisdom, truth, beauty, and illumination of the mind and spirit. He assists us in absorbing intricate information and in dealing ... Read more
Archangel Uriel is the Angel of the Earth and the keeper of the mysteries which are deep within the planet. According to Corinne Heline: "The beautiful Uriel stands guardian over the activities... Read more
Archangel Raphael is the Angel of intellect, creativity, healing, joy, courage and hope. This Angel will bring guidance and sustenance to anyone feeling lost, whether physically, emotionally or... Read more
Archangel Zadkiel is the Angel of gentle purification, forgiveness, solace and salvation. This loving Angel radiates comfort to those who are lost, afraid or grieving, and helps the wounded and... Read more
Archangel Gabriel is the Angel of mercy and harmony, and the protector of all that is pure and innocent. He assists humans in developing and utilizing their intuitive ability and grants wisdom ... Read more
Archangel Israfel is the Angel of beauty, song, counsel, sympathy, and resurrection. He is a compassionate Angel, always inclined to offer comfort and guidance to those who are feeling lost and... Read more
Archangel Gabriel is the Angel of mercy and harmony, and the protector of all that is pure and innocent. He assists humans in developing and utilizing their intuitive ability and grants wisdom ... Read more
Archangel Jeremiel is the Angel of sympathy, prophecy, knowledge and intuition, and judgement. He is involved with the process of attaining wisdom and assists us in tasks that require us to pre... Read more
Archangel Jeremiel is the Angel of sympathy, prophecy, knowledge and intuition, and judgement. He is involved with the process of attaining wisdom and assists us in tasks that require us to pre... Read more
Archangel Uriel is the Angel of the Earth and the keeper of the mysteries which are deep within the planet. According to Corinne Heline: "The beautiful Uriel stands guardian over the activities... Read more
Archangel Raphael is the Angel of intellect, creativity, healing, joy, courage and hope. This Angel will bring guidance and sustenance to anyone feeling lost, whether physically, emotionally or... Read more
Take this test »
Recent Results
Tests others are taking