The Angel Test
Uriel
Archangel
Uriel
is the Angel of the Earth and the keeper of the mysteries which are deep within the planet. According to Corinne Heline: "The beautiful Uriel stands guardian over the activities of the summer. The ripening of grain and the floodtide of blossom are under his guidance. He also supervises the Nature Spirits, those fascinating little sprites who inhabit the elements of earth, air, fire and water, and who lend so much to the beautification of all nature."
Nature with all its wonders is the ultimate symbol of creation and creativity; it is the purest source of ideas and aesthetic thoughts, and we are an inseparable part of it. Knowing this will help any artist and scholar. Uriel assists us in experiencing beauty through a heightened sense of appreciation, aids us in finding our true talents and stimulates our creativity and inspiration for artistic expression in its many forms.
Uriel is described as being the swiftest in wisdom of all the Archangels. One of his most important tasks is keeping record of all existing knowledge and of each and every event that is yet to come. Considering that, it's not surprising that he also grants the gift of prophecy. He is the great instructor who teaches us that art and study are for experiencing the joy of liberation that comes as wisdom is gained.
Uriel promotes compassion and peace. Most emphatically, he will dispel darkness with light at times when we are feeling depressed, angry, victimized, or confused. At those times, he helps release anger, unforgiveness, and other negative emotions that may be clouding our vision and judgment. In this respect he helps counsellors, teachers and everyone seeking truths, and supports them in the many twists and turns in their spiritual journey.
A Bit of Trivia:
Uriel is considered the Angel who helps us with natural disasters and is called for to avert such events, or to heal and recover in their aftermath. He is one of the four greatest Archangels, the other three being Raphael, Michael, and Gabriel. Among his symbols are the scroll and the book. He corresponds with the Earth signs, Taurus, Virgo, and Capricorn. Uriel is often confused with Ariel, the Angel of nature, wild beasts, and courage, who is also credited as the overseer of the earth spirits. They are not stated as equivalents of one another, so it appears they are actually two different angels. However, they are so incredibly similar; it's easy to see why authors of websites, books and journals keep switching around the first letter of their names whenever they feel like it.
Jophiel - Michael - Israfel - Raziel - Ariel - Uriel - Gabriel - Raphael - Zadkiel - Jeremiel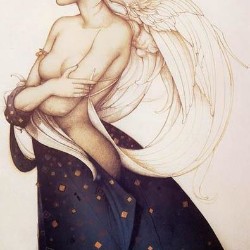 All possible test results
Archangel Jophiel is the Angel of endurance, freedom of thought, wisdom, truth, beauty, and illumination of the mind and spirit. He assists us in absorbing intricate information and in dealing ... Read more
Archangel Michael is the Angel of Miracles who strengthens the spirit during difficult times or dangerous situations. He inspires patience, truth, righteousness, strength, faith, and motivation... Read more
Archangel Israfel is the Angel of beauty, song, counsel, sympathy, and resurrection. He is a compassionate Angel, always inclined to offer comfort and guidance to those who are feeling lost and... Read more
Archangel Ariel is he Angel of courage, nature, and wild beasts. He inspires us to live our life to the fullest and without fear, and to let go of what is hurting or controlling us. He assures ... Read more
Archangel Raziel is the Angel of mystery, mystery, and more mystery. Luckily, he is willing to share his secrets with mankind whom he brings the gift of wisdom and knowledge. He inspires us to ... Read more
Archangel Jophiel is the Angel of endurance, freedom of thought, wisdom, truth, beauty, and illumination of the mind and spirit. He assists us in absorbing intricate information and in dealing ... Read more
Archangel Uriel is the Angel of the Earth and the keeper of the mysteries which are deep within the planet. According to Corinne Heline: "The beautiful Uriel stands guardian over the activities... Read more
Archangel Raphael is the Angel of intellect, creativity, healing, joy, courage and hope. This Angel will bring guidance and sustenance to anyone feeling lost, whether physically, emotionally or... Read more
Archangel Zadkiel is the Angel of gentle purification, forgiveness, solace and salvation. This loving Angel radiates comfort to those who are lost, afraid or grieving, and helps the wounded and... Read more
Archangel Gabriel is the Angel of mercy and harmony, and the protector of all that is pure and innocent. He assists humans in developing and utilizing their intuitive ability and grants wisdom ... Read more
Archangel Israfel is the Angel of beauty, song, counsel, sympathy, and resurrection. He is a compassionate Angel, always inclined to offer comfort and guidance to those who are feeling lost and... Read more
Archangel Gabriel is the Angel of mercy and harmony, and the protector of all that is pure and innocent. He assists humans in developing and utilizing their intuitive ability and grants wisdom ... Read more
Archangel Jeremiel is the Angel of sympathy, prophecy, knowledge and intuition, and judgement. He is involved with the process of attaining wisdom and assists us in tasks that require us to pre... Read more
Archangel Jeremiel is the Angel of sympathy, prophecy, knowledge and intuition, and judgement. He is involved with the process of attaining wisdom and assists us in tasks that require us to pre... Read more
Archangel Uriel is the Angel of the Earth and the keeper of the mysteries which are deep within the planet. According to Corinne Heline: "The beautiful Uriel stands guardian over the activities... Read more
Archangel Raphael is the Angel of intellect, creativity, healing, joy, courage and hope. This Angel will bring guidance and sustenance to anyone feeling lost, whether physically, emotionally or... Read more
Take this test »
Recent Results
Tests others are taking