The Angel Test
Raphael
Archangel
Raphael
is the Angel of intellect, creativity, healing, joy, courage and hope. This Angel will bring guidance and sustenance to anyone feeling lost, whether physically, emotionally or spiritually. He is called "The Illuminator," because he provides a "Torch of Angelic Light" to help humans light their way through life so they can more effectively avoid hurdles, overcome challenges with less effort, and see the opportunities and spiritual rewards that lay ahead. He encourages self-motivation in becoming who we're meant to be, and reminds us to seek truth in all we say and do. As we light our way into the future, a sense of courage will naturally come to us.
Students as well as teachers are in good hands if Raphael is watching over them. He inspires a heightened creative visualization and allows us to better focus on a particular activity to achieve a specific goal. Raphael is the Patron Angel of doctors, scientists, writers, and anyone working in the field of endeavour in the liberal arts or sciences. Being the leader of the Angels of Healing, Raphael offers cure of all kinds for humans, animals, and nature. He is a protector of children, and that goes for your inner child, too. He teaches us to laugh easily, and to enjoy life. Raphael is said to be the friendliest and funniest of all the Angels.
A Bit of Trivia:
Raphael is one of the four greatest Archangels, the other three being Michael, Gabriel, and Uriel. His symbols are the healing hands and the Caduceus, a winged staff intertwined with two snakes, which can be seen on the signs of pharmacies and hospitals. He is the Angel of Mercury, and thus the ruler of Wednesday, the day of learning and travelling. He corresponds with the Wind signs, Aquarius, Gemini, and Libra. Raphael can be seen on the Tarot card Key 6 – the Lovers, which symbolizes our three layers of consciousness, with the man being the conscious, the woman being the sub-conscious, and the angel being the super-conscious.
Jophiel - Michael - Israfel - Raziel - Ariel - Uriel - Gabriel - Raphael - Zadkiel - Jeremiel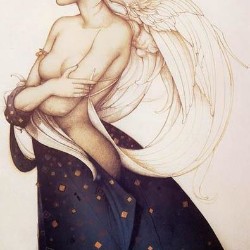 All possible test results
Archangel Jophiel is the Angel of endurance, freedom of thought, wisdom, truth, beauty, and illumination of the mind and spirit. He assists us in absorbing intricate information and in dealing ... Read more
Archangel Michael is the Angel of Miracles who strengthens the spirit during difficult times or dangerous situations. He inspires patience, truth, righteousness, strength, faith, and motivation... Read more
Archangel Israfel is the Angel of beauty, song, counsel, sympathy, and resurrection. He is a compassionate Angel, always inclined to offer comfort and guidance to those who are feeling lost and... Read more
Archangel Ariel is he Angel of courage, nature, and wild beasts. He inspires us to live our life to the fullest and without fear, and to let go of what is hurting or controlling us. He assures ... Read more
Archangel Raziel is the Angel of mystery, mystery, and more mystery. Luckily, he is willing to share his secrets with mankind whom he brings the gift of wisdom and knowledge. He inspires us to ... Read more
Archangel Jophiel is the Angel of endurance, freedom of thought, wisdom, truth, beauty, and illumination of the mind and spirit. He assists us in absorbing intricate information and in dealing ... Read more
Archangel Uriel is the Angel of the Earth and the keeper of the mysteries which are deep within the planet. According to Corinne Heline: "The beautiful Uriel stands guardian over the activities... Read more
Archangel Raphael is the Angel of intellect, creativity, healing, joy, courage and hope. This Angel will bring guidance and sustenance to anyone feeling lost, whether physically, emotionally or... Read more
Archangel Zadkiel is the Angel of gentle purification, forgiveness, solace and salvation. This loving Angel radiates comfort to those who are lost, afraid or grieving, and helps the wounded and... Read more
Archangel Gabriel is the Angel of mercy and harmony, and the protector of all that is pure and innocent. He assists humans in developing and utilizing their intuitive ability and grants wisdom ... Read more
Archangel Israfel is the Angel of beauty, song, counsel, sympathy, and resurrection. He is a compassionate Angel, always inclined to offer comfort and guidance to those who are feeling lost and... Read more
Archangel Gabriel is the Angel of mercy and harmony, and the protector of all that is pure and innocent. He assists humans in developing and utilizing their intuitive ability and grants wisdom ... Read more
Archangel Jeremiel is the Angel of sympathy, prophecy, knowledge and intuition, and judgement. He is involved with the process of attaining wisdom and assists us in tasks that require us to pre... Read more
Archangel Jeremiel is the Angel of sympathy, prophecy, knowledge and intuition, and judgement. He is involved with the process of attaining wisdom and assists us in tasks that require us to pre... Read more
Archangel Uriel is the Angel of the Earth and the keeper of the mysteries which are deep within the planet. According to Corinne Heline: "The beautiful Uriel stands guardian over the activities... Read more
Archangel Raphael is the Angel of intellect, creativity, healing, joy, courage and hope. This Angel will bring guidance and sustenance to anyone feeling lost, whether physically, emotionally or... Read more
Take this test »
Recent Results
Tests others are taking