The Angel Test
Raziel
Archangel
Raziel
is the Angel of mystery, mystery, and more mystery. Luckily, he is willing to share his secrets with mankind whom he brings the gift of wisdom and knowledge. He inspires us to learn from our experiences as we go through the different stages of our lives, and to work to improve our understanding at all times.
Raziel offers special support to those who seek to learn, and encourages us to ask questions so that we may illuminate our mind and spirit and come to know the truth about the wonders of life. He is a magnificent teacher who helps us grasp complex matters with ease. At the same time, he guards knowledge from those that are not ready to receive it; there is a time for everything, and disturbing the order by rushing and forcing things against their natural flow has seldom done anyone good. That's why Raziel also teaches us to study with "more haste, less speed."
Raziel the personification of divine wisdom and the Patron Angel of those who wish to understand esoteric material, engage in alchemy or manifestation, or just going through an especially tough time filled with sleepless nights of studying. Also, Raziel presents us with the ability to unlock our subconscious knowledge and memories through meditation and hypnosis.
A Bit of Trivia:
Raziel is officially known as the Chief of the Supreme Mysteries. He is the legendary author of "The Book of the Archangel Raziel", wherein all celestial and earthly knowledge is set down, which was said to be given to Adam so he may learn all there is to know about life and the secrets of the universe. Raziel appears quite tall and has large sky-blue wings. He is the ruler of the planet Neptune.
Jophiel - Michael - Israfel - Raziel - Ariel - Uriel - Gabriel - Raphael - Zadkiel - Jeremiel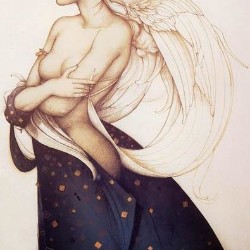 All possible test results
Archangel Jophiel is the Angel of endurance, freedom of thought, wisdom, truth, beauty, and illumination of the mind and spirit. He assists us in absorbing intricate information and in dealing ... Read more
Archangel Michael is the Angel of Miracles who strengthens the spirit during difficult times or dangerous situations. He inspires patience, truth, righteousness, strength, faith, and motivation... Read more
Archangel Israfel is the Angel of beauty, song, counsel, sympathy, and resurrection. He is a compassionate Angel, always inclined to offer comfort and guidance to those who are feeling lost and... Read more
Archangel Ariel is he Angel of courage, nature, and wild beasts. He inspires us to live our life to the fullest and without fear, and to let go of what is hurting or controlling us. He assures ... Read more
Archangel Raziel is the Angel of mystery, mystery, and more mystery. Luckily, he is willing to share his secrets with mankind whom he brings the gift of wisdom and knowledge. He inspires us to ... Read more
Archangel Jophiel is the Angel of endurance, freedom of thought, wisdom, truth, beauty, and illumination of the mind and spirit. He assists us in absorbing intricate information and in dealing ... Read more
Archangel Uriel is the Angel of the Earth and the keeper of the mysteries which are deep within the planet. According to Corinne Heline: "The beautiful Uriel stands guardian over the activities... Read more
Archangel Raphael is the Angel of intellect, creativity, healing, joy, courage and hope. This Angel will bring guidance and sustenance to anyone feeling lost, whether physically, emotionally or... Read more
Archangel Zadkiel is the Angel of gentle purification, forgiveness, solace and salvation. This loving Angel radiates comfort to those who are lost, afraid or grieving, and helps the wounded and... Read more
Archangel Gabriel is the Angel of mercy and harmony, and the protector of all that is pure and innocent. He assists humans in developing and utilizing their intuitive ability and grants wisdom ... Read more
Archangel Israfel is the Angel of beauty, song, counsel, sympathy, and resurrection. He is a compassionate Angel, always inclined to offer comfort and guidance to those who are feeling lost and... Read more
Archangel Gabriel is the Angel of mercy and harmony, and the protector of all that is pure and innocent. He assists humans in developing and utilizing their intuitive ability and grants wisdom ... Read more
Archangel Jeremiel is the Angel of sympathy, prophecy, knowledge and intuition, and judgement. He is involved with the process of attaining wisdom and assists us in tasks that require us to pre... Read more
Archangel Jeremiel is the Angel of sympathy, prophecy, knowledge and intuition, and judgement. He is involved with the process of attaining wisdom and assists us in tasks that require us to pre... Read more
Archangel Uriel is the Angel of the Earth and the keeper of the mysteries which are deep within the planet. According to Corinne Heline: "The beautiful Uriel stands guardian over the activities... Read more
Archangel Raphael is the Angel of intellect, creativity, healing, joy, courage and hope. This Angel will bring guidance and sustenance to anyone feeling lost, whether physically, emotionally or... Read more
Take this test »
Recent Results
Tests others are taking