The Angel Test
Their result for The Angel Test ...
Israfel
So you need Healing (50%), Knowledge (40%), Inspiration (60%), and Strength (38%)?
Archangel
Israfel
is the Angel of beauty, song, counsel, sympathy, and resurrection. He is a compassionate Angel, always inclined to offer comfort and guidance to those who are feeling lost and abandoned, and bring joy and laughter back to those who are without hope. He wants us to know that we are never alone and inspires us to love ourselves and to be confident and have faith.
Israfel is the Patron Angel of entertainers who brings mankind the gift of song, and with it the joy that will inevitably follow. He is a special Angel to musicians and those concerned with beauty, be it beauty in art or the beauty of life. His most famous instrument is the trumpet, but he is also mentioned playing the lute. Those two represent all string, pluck and wind instruments.
If you are the kind of trumpeter that'll "wake the dead" in the middle of the night, you may have more in common with Israfel than you though. For he is also the Angel of resurrection, and what does he use to awaken the dead from their slumber at the end of the world? That's right. A trumpet. His role at the final judgement makes him the Angel of life and new beginnings, representing the kind of hope that fills us when the sun rises over the horizon to drive away the darkness of the night.
A Bit of Trivia:
Israfel is a very compassionate Angel indeed. He "looks three times each day and three times each night into the depths of Hell, and is so stricken with horror and grief at the plight of the damned souls that he weep so that his tears would flood the earth, if God did not prevent them from flowing." He is also said to be very beautiful and the master of music. Edgar Allan Poe once wrote in his poem Israfel: "In heaven a spirit doth dwell / Whose heart-strings are a lute; / None sing so wildly well / As the angel Israfel."
Jophiel - Michael - Israfel - Raziel - Ariel - Uriel - Gabriel - Raphael - Zadkiel - Jeremiel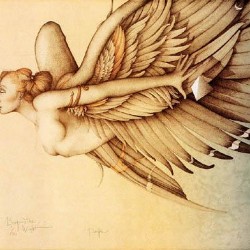 Their Analysis
(Vertical line = Average)
They scored 50% on Healing, higher than 59% of your peers.

They scored 40% on Knowledge, higher than 26% of your peers.

They scored 60% on Inspiration, higher than 71% of your peers.

They scored 38% on Strength, higher than 18% of your peers.
All possible test results
Archangel Jophiel is the Angel of endurance, freedom of thought, wisdom, truth, beauty, and illumination of the mind and spirit. He assists us in absorbing intricate information and in dealing ... Read more
Archangel Michael is the Angel of Miracles who strengthens the spirit during difficult times or dangerous situations. He inspires patience, truth, righteousness, strength, faith, and motivation... Read more
Archangel Israfel is the Angel of beauty, song, counsel, sympathy, and resurrection. He is a compassionate Angel, always inclined to offer comfort and guidance to those who are feeling lost and... Read more
Archangel Ariel is he Angel of courage, nature, and wild beasts. He inspires us to live our life to the fullest and without fear, and to let go of what is hurting or controlling us. He assures ... Read more
Archangel Raziel is the Angel of mystery, mystery, and more mystery. Luckily, he is willing to share his secrets with mankind whom he brings the gift of wisdom and knowledge. He inspires us to ... Read more
Archangel Jophiel is the Angel of endurance, freedom of thought, wisdom, truth, beauty, and illumination of the mind and spirit. He assists us in absorbing intricate information and in dealing ... Read more
Archangel Uriel is the Angel of the Earth and the keeper of the mysteries which are deep within the planet. According to Corinne Heline: "The beautiful Uriel stands guardian over the activities... Read more
Archangel Raphael is the Angel of intellect, creativity, healing, joy, courage and hope. This Angel will bring guidance and sustenance to anyone feeling lost, whether physically, emotionally or... Read more
Archangel Zadkiel is the Angel of gentle purification, forgiveness, solace and salvation. This loving Angel radiates comfort to those who are lost, afraid or grieving, and helps the wounded and... Read more
Archangel Gabriel is the Angel of mercy and harmony, and the protector of all that is pure and innocent. He assists humans in developing and utilizing their intuitive ability and grants wisdom ... Read more
Archangel Israfel is the Angel of beauty, song, counsel, sympathy, and resurrection. He is a compassionate Angel, always inclined to offer comfort and guidance to those who are feeling lost and... Read more
Archangel Gabriel is the Angel of mercy and harmony, and the protector of all that is pure and innocent. He assists humans in developing and utilizing their intuitive ability and grants wisdom ... Read more
Archangel Jeremiel is the Angel of sympathy, prophecy, knowledge and intuition, and judgement. He is involved with the process of attaining wisdom and assists us in tasks that require us to pre... Read more
Archangel Jeremiel is the Angel of sympathy, prophecy, knowledge and intuition, and judgement. He is involved with the process of attaining wisdom and assists us in tasks that require us to pre... Read more
Archangel Uriel is the Angel of the Earth and the keeper of the mysteries which are deep within the planet. According to Corinne Heline: "The beautiful Uriel stands guardian over the activities... Read more
Archangel Raphael is the Angel of intellect, creativity, healing, joy, courage and hope. This Angel will bring guidance and sustenance to anyone feeling lost, whether physically, emotionally or... Read more
Take this test »
Recent Results
Tests others are taking