The Angel Test
Their result for The Angel Test ...
Jophiel
So you need Healing (31%), Knowledge (20%), Inspiration (30%), and Strength (38%)?
Archangel
Jophiel
is the Angel of endurance, freedom of thought, wisdom, truth, beauty, and illumination of the mind and spirit. He assists us in absorbing intricate information and in dealing with complex matters, and guides us along our aspired spiritual path to enlightenment.
Jophiel, inclined to help us see and maintain beauty in life, is the Patron Angel of artists and helps them in every step towards the completion of their work. Also, he loves those using inventions, discoveries, or revolutionary ideas for the greater good of humanity, and gives them special support, for as well-meant as the efforts of a pioneer often are, success will seldom come without doubt and humiliation.
Jophiel shares with us his wisdom and selfless patience that will strengthen us at times when we are close to resignation, and encourages those who are wishing to make a change that seems impossible to do to keep going. He teaches that everything can be made possible.
Striving and struggling souls, continuously searching for solutions and answers will find the strong and unshakable support they need in Jophiel, which goes for spiritual matters as well as earthly problems calling for solutions. He comforts those that were denigrated and abandoned, unwearyingly staying by their side to light their way and lead them out of hopelessness and despair. Jophiel is also concerned in beautifying the planet by cleansing it of pollution and lends his assistance to those engaging in the vital mission of helping our environment.
A Bit of Trivia:
Jophiel is one of the two Angels assisting Michael in battle, the other being Zadkiel. Just like Gabriel and Ariel, Jophiel is sometimes referred to as female.
Jophiel - Michael - Israfel - Raziel - Ariel - Uriel - Gabriel - Raphael - Zadkiel - Jeremiel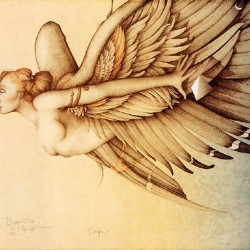 Their Analysis
(Vertical line = Average)
They scored 31% on Healing, higher than 24% of your peers.

They scored 20% on Knowledge, higher than 5% of your peers.

They scored 30% on Inspiration, higher than 25% of your peers.

They scored 38% on Strength, higher than 18% of your peers.
All possible test results
Archangel Jophiel is the Angel of endurance, freedom of thought, wisdom, truth, beauty, and illumination of the mind and spirit. He assists us in absorbing intricate information and in dealing ... Read more
Archangel Michael is the Angel of Miracles who strengthens the spirit during difficult times or dangerous situations. He inspires patience, truth, righteousness, strength, faith, and motivation... Read more
Archangel Israfel is the Angel of beauty, song, counsel, sympathy, and resurrection. He is a compassionate Angel, always inclined to offer comfort and guidance to those who are feeling lost and... Read more
Archangel Ariel is he Angel of courage, nature, and wild beasts. He inspires us to live our life to the fullest and without fear, and to let go of what is hurting or controlling us. He assures ... Read more
Archangel Raziel is the Angel of mystery, mystery, and more mystery. Luckily, he is willing to share his secrets with mankind whom he brings the gift of wisdom and knowledge. He inspires us to ... Read more
Archangel Jophiel is the Angel of endurance, freedom of thought, wisdom, truth, beauty, and illumination of the mind and spirit. He assists us in absorbing intricate information and in dealing ... Read more
Archangel Uriel is the Angel of the Earth and the keeper of the mysteries which are deep within the planet. According to Corinne Heline: "The beautiful Uriel stands guardian over the activities... Read more
Archangel Raphael is the Angel of intellect, creativity, healing, joy, courage and hope. This Angel will bring guidance and sustenance to anyone feeling lost, whether physically, emotionally or... Read more
Archangel Zadkiel is the Angel of gentle purification, forgiveness, solace and salvation. This loving Angel radiates comfort to those who are lost, afraid or grieving, and helps the wounded and... Read more
Archangel Gabriel is the Angel of mercy and harmony, and the protector of all that is pure and innocent. He assists humans in developing and utilizing their intuitive ability and grants wisdom ... Read more
Archangel Israfel is the Angel of beauty, song, counsel, sympathy, and resurrection. He is a compassionate Angel, always inclined to offer comfort and guidance to those who are feeling lost and... Read more
Archangel Gabriel is the Angel of mercy and harmony, and the protector of all that is pure and innocent. He assists humans in developing and utilizing their intuitive ability and grants wisdom ... Read more
Archangel Jeremiel is the Angel of sympathy, prophecy, knowledge and intuition, and judgement. He is involved with the process of attaining wisdom and assists us in tasks that require us to pre... Read more
Archangel Jeremiel is the Angel of sympathy, prophecy, knowledge and intuition, and judgement. He is involved with the process of attaining wisdom and assists us in tasks that require us to pre... Read more
Archangel Uriel is the Angel of the Earth and the keeper of the mysteries which are deep within the planet. According to Corinne Heline: "The beautiful Uriel stands guardian over the activities... Read more
Archangel Raphael is the Angel of intellect, creativity, healing, joy, courage and hope. This Angel will bring guidance and sustenance to anyone feeling lost, whether physically, emotionally or... Read more
Take this test »
Recent Results
Tests others are taking