The I thought my profile was cool? Test
Their result for The I thought my profile was cool? Test ...
A Bit Above Average
You are 78 effective!
Your profile has a few red flags. You might've stepped over the line in revealing some personal secrets, or you may have said you're on on the rebound. However, there are some redeeming qualities, and some people might find that attractive. If you find someone who can accept those flaws, that makes for a great relationship!

Have any good stories of creepy messages or people you've encountered on OkCupid? Are their profiles a joke? Tell me about them, and every few weeks I'll pick the best story and honor them by creating a new question and posting the story in my journal.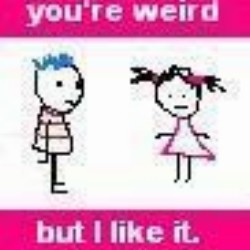 Their Analysis
(Vertical line = Average)
They scored 78% on effectiveness, higher than 73% of your peers.
All possible test results
You're the creep. Your profile makes the reader a little wary. Have you told everyone you just got out of a three-year relationship? Did you tell them you're looking for marriage because you're... Read more
Your profile is about average. You might have a few pictures of you in a bar or drinking with friends. You probably have a few spelling errors somewhere that makes the reader think you slept through E... Read more
Your profile has a few red flags. You might've stepped over the line in revealing some personal secrets, or you may have said you're on on the rebound. However, there are some redeeming qualiti... Read more
You know how to write a good profile. You know what to say, and you know what is "too much" when talking about yourself and those "little quirks." You will have better luck making new friends or ... Read more
Take this test »