The Are You as Hot as Salma Test
Their result for The Are You as Hot as Salma Test ...
Salma Hayek
You scored 16 for odylic force and 13 in charisma!
Help us Jeebus, you are dangerous! You are smoking hot in every regard. I want you. They want you. She wants to be like you. I hope they sell car insurance wherever you live!! You are oozing sex and lord knows everyone better not slip in it. Everyone wants to be around you. You are at the top of your game, and there is on doubt that you.. you are the original. (call me)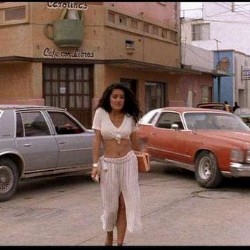 Their Analysis
(Vertical line = Average)
They scored 16% on odylic force, higher than 69% of your peers.

They scored 13% on charisma, higher than 72% of your peers.
All possible test results
While Salma worked in a bookstore, she was a hottie. You on the other hand, well, let's just say that you're not working. You're more like that high school librarian I mentioned earlier. And, your per... Read more
Like Salma, you'd make a good properietor of a book store-- talking about books, the properties of books, what kind of books are in this season. But don't expect a lot of male customers, at least not ... Read more
You're a hottie, no doubt about that. When you walk, people take notice. The problem is, you don't know when to walk and when not to. You're more likely to get hit by a car, then cause a car to get ... Read more
You are awesome. Indoors, men fall over themselves to talk to you. You know what to do and how to do, usually. But when you're strolling around outside, and there is less intimacy, people ignore you f... Read more
You are a hottie. Guys trip over themselves when you walk by. And you might cause a car accident or two, but usually they'll gain composure in the nick of time. However, what I'm getting at is that y... Read more
Help us Jeebus, you are dangerous! You are smoking hot in every regard. I want you. They want you. She wants to be like you. I hope they sell car insurance wherever you live!! You are oozing sex and... Read more
Take this test »