The How Evolved Are YOU? Test
Their result for The How Evolved Are YOU? Test ...
Monkey
Congratulations! You scored ###!
You have enough evolutionary knowledge to hang from a tree and throw your own poop! Great for you! Your score of 60-80% at least tells me you where alive when you took the test! Study up on your evolutionary theory and maybe next time you will do better. Congrats none the less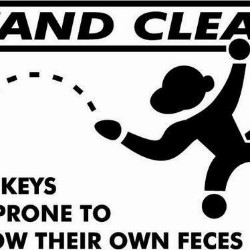 Their Analysis
(Vertical line = Average)
They scored 76% on Darwinians, higher than 36% of your peers.
All possible test results
You are one of those people who hates evolution because you know nothing about it! Your score of less than 20% tells me that you need to pick up a book and enter the 21st century! Congrats, you are st... Read more
Great job, you have just enough evolutionary knowledge to a cell. Maybe in your next life you will pay better attention in into to biology! You did better than many and are well on your way to becomin... Read more
Being an Insect is a great thing! That means you know at least 1/2 of the evolutionary BS out there. Congrats again... You are evolved enough to move around and to have 5 billion kids at a time- altho... Read more
You have enough evolutionary knowledge to hang from a tree and throw your own poop! Great for you! Your score of 60-80% at least tells me you where alive when you took the test! Study up on your evolu... Read more
You know basically EVERYTHING there is to know about evolutionary theory! I am proud, as you should be... You can go into the universe and spread your seed with confidence that you are not the panicle... Read more
Take this test »
Recent Results
Tests others are taking