The What Planet Are You From Test
Their result for The What Planet Are You From Test ...
Jupiter
Congratulations! You scored ###%!
Jupiter is the fifth planet from the Sun and is the largest one in the solar system. If Jupiter were hollow, more than one thousand Earths could fit inside. That makes you the henchman, the guy that everyone calls on to do his dirty work. Big and lumbering, you stick out like a sore thumb, yet no one seems to find you. Remember JFK? That was your doing. King? You got that right. Stronger than most everyone, and you like it just fine that way. I know a couple of marines that would just love to pick a fight with you.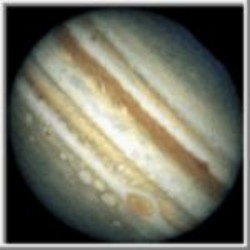 Their Analysis
(Vertical line = Average)
They scored 59% on planetarypoints, higher than 50% of your peers.
All possible test results
Uranus is the seventh planet from the Sun and is the third largest in the solar system. Also, Uranus has at least 22 moons. Well, what can we say? You are the butt of all jokes in the universe. Yo... Read more
Although Pluto was discovered in 1930, limited information on the distant planet delayed a realistic understanding of its characteristics. Today Pluto remains the only planet that has not been visited... Read more
Mercury was named by the Romans after the fleet-footed messenger of the gods because it seemed to move more quickly than any other planet. You can probably fly a very fast ship (if you can ever find ... Read more
The first two thirds of Neptune is composed of a mixture of molten rock, water, liquid ammonia and methane. The outer third is a mixture of heated gases comprised of hydrogen, helium, water and methan... Read more
Venus, sweet venus, the jewel of the sky, was once know by ancient astronomers as the morning star and evening star. Early astronomers once thought Venus to be two separate bodies. Venus, which is nam... Read more
Jupiter is the fifth planet from the Sun and is the largest one in the solar system. If Jupiter were hollow, more than one thousand Earths could fit inside. That makes you the henchman, the guy that ... Read more
Saturn is the sixth planet from the Sun and is the second largest in the solar system. The wind blows at high speeds on Saturn. Near the equator, it reaches velocities of 1,100 miles an hour. This m... Read more
The Sun is the most prominent feature in our solar system. It is the largest object and contains approximately 98% of the total solar system mass. One hundred and nine Earths would be required to fit ... Read more
Earth is the only planet whose English name does not derive from Greek/Roman mythology, and that's because we are purists. Welcome my friends. You have passed the test, and proven once and for all t... Read more
Mars is the fourth planet from the Sun and is commonly referred to as the Red Planet. The rocks, soil and sky have a red or pink hue. It was given its name by the Romans in honor of their god of war.... Read more
Take this test »
Recent Results
Tests others are taking