The Better Autobot or Decepticon Test
Their result for The Better Autobot or Decepticon Test ...
Elite Decepticon!
You Scored a xxx!
As a member of the Decepticons (evil), you follow the beat of a different drum. You lack the demonic savageness of those that are pure Decepticon, but you still have the love of Decepticon Heritage in your veins. Perhaps you should work harder to becoming that supreme Evil. It's Decepticons or Death. Your list of names to choose from are as follows: Astrotrain, Shockwave, Starscream, Cyclonus, Unicron, or Ravage.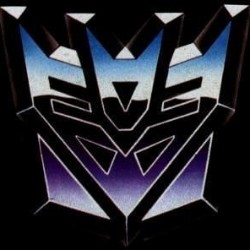 Their Analysis
(Vertical line = Average)
They scored 24% on Autobot, higher than 3% of your peers.
All possible test results
You are about as Decepticon (evil) as they get. You rule Cybertron with an Iron Fist that would make the Decepticon ancestors shiver with fear. You used your cunning and your deceptiveness with expe... Read more
As a member of the Decepticons (evil), you follow the beat of a different drum. You lack the demonic savageness of those that are pure Decepticon, but you still have the love of Decepticon Heritage i... Read more
You're a Decepticon in the group. Solid and determined to be there, you do not swagger from your ranks. You do, however, lack a certain cruelty. You don't necessarily kill all that stands in your w... Read more
You are on the blooper reel of the Decepticon slide show. You pretty much screw up every assignment Megatron sends you on. You are two seconds away from being scrap. But don't worry, you're still a... Read more
Well, you're an Autobot... barely. I think You just made the cut. You've got an evil side, but that's hidden behind a veil of honor and loyalty. You don't agree with the Decepticon Principles, and y... Read more
Autobot, Line up! You're not the best, and you're not the worst. You get the job done, and with a little effort, you get it done before you need back up. Though you should have probably called in f... Read more
You're an Autobot hero. You're not the leader, but you have a major part in helping restore order in the universe. Perhaps when you are a little more experienced, you could lead the Ranks. You woul... Read more
Until All Are One! You are the Leader of the Autobot brethren which strives for peace in the Galaxy. You are the "Prime" example of what Autobots should be like. Congradulations, revered leader of ... Read more
Take this test »