The Pure Evil Test
Their result for The Pure Evil Test ...
Hank Scorpio
You scored 62 Evil!
You're quite the evil bastard, but you do it with confidence and a sunny disposition. Though you love people, you appreciate them more if they're somehow helping you in your quest for world domination. The problem is that you still have some good in you. You're not quite as evil as you can be. Is that a good thing? Yes, it means less people trying to kill you. But it also means that you can be taken advantage of. Enslave some more monkeys and maybe, just maybe, you can be truly evil.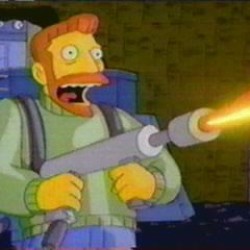 Their Analysis
(Vertical line = Average)
They scored 62% on Evil, higher than 56% of your peers.
All possible test results
You're not evil at all. You're either a saint, or a hippie, in which case this test may have offended you. You're going to fall somewhere in life: good never triumphs over evil, because good is dumb. ... Read more
Congratulations, you fall into that special category of evil where every sane person should reside. You're not purely evil, but you sure as shit aren't Mother Theresa (who was evil in her own way, act... Read more
You are not a good person, no no no. You're the crooked cop, the miller who cheats his buyers, the spouse who has the affair, the priest who takes money from the donation box, and the bastard who driv... Read more
You're quite the evil bastard, but you do it with confidence and a sunny disposition. Though you love people, you appreciate them more if they're somehow helping you in your quest for world domination... Read more
Congratulations, you're pure evil, manifested in the form of a hunched geriatric with every disease known to man. Well, not really, but your dream is to be a local autocrat who hits children with his ... Read more
Take this test »