The Sheep or Wolf Test
Their result for The Sheep or Wolf Test ...
Chameloen
You scored 71 points toward the "Wolf" trait!
You have a choice here. Call it "adaptation" or call it "not quite good enough". You are not quite a sheep, yet you lack the drive of a true wolf. Just because this is a middle category, does not mean that most or many people fall in here. By far, as a human being, this is probably one of the best places to be in. Yes, you may not be the next Adolph Hitler, but then again, at least you will enjoy your life to the natural ending. Remember, even if you not trying to be a cold blooded and distant wolf, you should still hone and practice your skills, because you do not want to become complacent and rusty and fall a few points down the scale into the river full of your new sheep friends. Beeee! ;)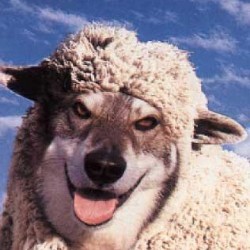 Their Analysis
(Vertical line = Average)
They scored 71% on Wolfpoints, higher than 76% of your peers.
All possible test results
What can I tell you? You scored good enough to be a faceless blob in the masses. You are, indeed, a sheep. You may think you are original and special, but you maybe the only one thinking this in th... Read more
You have a choice here. Call it "adaptation" or call it "not quite good enough". You are not quite a sheep, yet you lack the drive of a true wolf. Just because this is a middle category, does n... Read more
You are truly a full blood Wolf. You have a heart made out of a black piece of rock and blood that could chill even a warmest flame. This is not necessarily bad (although it's not good either), but... Read more
Take this test »