The Classical Composer Information Test
Their result for The Classical Composer Information Test ...
Impressive
You scored 81 Composer Smarts!
Wow! You did very well! Obviousely you wern't asleep in that music history class. You didn't doze off when your orchestra director started talking about the composers. You probably even know how to read on your own too! You defiantly have enough knowledge to be dangerous at cocktail parties. So next time you see some girl or guy go up to them and ask, "Did you know Haydn lost his head?" Yeah, let me know how that works out... Go forth!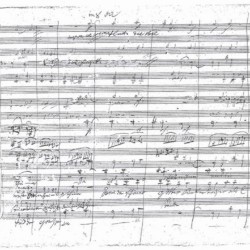 Their Analysis
(Vertical line = Average)
They scored 81% on Composer Smarts, higher than 75% of your peers.
All possible test results
Yikes!! That's real bad. You should probably be kept far away from anything musical. Do the world a favor and shove that soprano saxophone in a very uncomfortable place. By the way, John Williams ... Read more
Are you impressed with shiny objects? Do you stare into the sun for long periods of time? Do you even know who P.D.Q. Bach is!? Well, one of three of those probably applies. You might be smart, yo... Read more
Not bad, you got some right... but not too many. Maybe you play an instrument or you have some weird fascination with composers. Either way, not bad... but not good... Anyway, I hereby dub you, Det... Read more
Well done! You've scored well. You paid attention in music history or you had a teacher who liked to point out who was a Nazi. It's also possible that you only drooled on your music history book an... Read more
Wow! You did very well! Obviousely you wern't asleep in that music history class. You didn't doze off when your orchestra director started talking about the composers. You probably even know how t... Read more
Amazing!! You are truly dangerous at cocktail parties. Grout, as you must already know, wrote the definitive music history text. Like Grout you are very knowledgeable about your music history. Y... Read more
Take this test »
Recent Results
Ortho_TD_Stice47 / m / Straight
Tests others are taking