The How Evil Are You Test
Their result for The How Evil Are You Test ...
Hip Jesus
You scored 30 %evilness!
What is "Hip Jesus" you ask? "Hip Jesus" is Jesus evolved. He has all the same qualities of the old Jesus; loving, caring, thoughtfulness, and unselfishness. But this time around he is a little cooler, a little more edgy. He experiments alittle more, he laughs alittle more, he even gets mad every now and then. All in all Hip Jesus is a fun guy to be around. So be Hip Jesus, feel Hip Jesus, be one with Hip Jesus.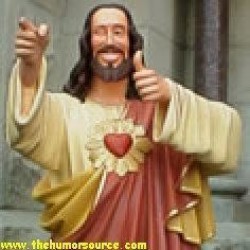 Their Analysis
(Vertical line = Average)
They scored 30% on evilness, higher than 30% of your peers.
All possible test results
Thats right your the goody-goody from Leave it to Beaver. You don't do anything wrong...EVER!!! You compliment and try to lend a helping hand to everyone. Your sweet and always smiling. How nice! Ho... Read more
What is "Hip Jesus" you ask? "Hip Jesus" is Jesus evolved. He has all the same qualities of the old Jesus; loving, caring, thoughtfulness, and unselfishness. But this time around he is a little cooler... Read more
Dr. Evil and you have alot in common. You both have dreams of world domination and always find humor in others misfortunes. Even though you both have great aspirations of doing horrible things you act... Read more
Wow your a fucking nut. You absolutely love death and destruction. The FBI is probably looking for you as we speak. Im sure I'll be reading about you in the paper or seeing some of your highlights on ... Read more
All I can say is that I hope your not runnin free in my home town. Your probably taking this test from a cell...preferably in a straight jacket or on deathrow. Read more
Take this test »
Recent Results
Tests others are taking