Your Musical Personality Test
Their result for Your Musical Personality Test ...
The Great Average
13% Visual, 18% Aural, 20% Kinesthetic and 11% SecretMix!
You scored 13% Visual, 18% Aural, 20% Kinesthetic and 11% SecretMix! AVERAGE!
In the world of false dichotomies, where there is performer and audience member, you are consistently the clapping audience member.
You appreciate a good show, a good song, probably like to dance to a certain degree. You have maybe plinked around on instruments, not showing any unique talent or connection to music. You do have opinions and feelings about music, but very generally, they aren't too terribly exciting or groundbreaking. But don't let this get you down. Not everyone needs to be a Django Reinhardt, Emily Elbert, or Zack Kim. You probably have much more important things to worry about.
According to your scores, you do not have a dominant relation to music. Rather, you scored pretty evenly on the aural, kinesthetic, visual, and cerebral axes. However, your scores for each category were in the average range.
Good news for you: Don't feel bad. Most people score this (because it's average). Also, we need you to fill the dance floors, buy tickets to shows, fill your ipod up with itunes, and be subjected to the subliminal marketing powers of music. It keeps the economy going.
The bad news for you: I'm not going to deliver any bad news to you being that I just told you that you're average. However, I'm sure your mother knows a million ways in which you are so incredibly special.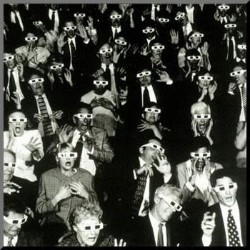 Their Analysis
(Vertical line = Average)
They scored 13% on Visual, higher than 58% of your peers.

They scored 18% on Aural, higher than 44% of your peers.

They scored 20% on Kinesthetic, higher than 45% of your peers.

They scored 11% on SecretMix, higher than 12% of your peers.
All possible test results
Sure, you like music. You listen to it, dance to it, like to watch it in various forms. But above all, you THINK about music. You probably have a John Cage album on vinyl, all dusty, dark, and dank... Read more
You scored $(Visual)% Visual, $(Aural)% Aural, $(Kinesthetic)% Kinesthetic and $(SecretMix)% SecretMix Clearly, you are a musician. If you don't actually play an instrument, you... Read more
You scored $(Visual)% Visual, $(Aural)% Aural, $(Kinesthetic)% Kinesthetic and $(SecretMix)% SecretMix! You got the smooves, the beat, and consequently, major sex appeal. Sexin... Read more
You scored $(Visual) Visual, $(Aural) Aural, $(Kinesthetic) Kinesthetic and $(SecretMix) When you're listening to music on your computer, you probably thumb throuh the visualiz... Read more
You scored $(Visual)% Visual, $(Aural)% Aural, $(Kinesthetic)% Kinesthetic and $(SecretMix)% SecretMix! You actually LIKE music. You've probably spent a pretty... Read more
You scored $(Visual) Visual, $(Aural) Aural, $(Kinesthetic) Kinesthetic and $(SecretMix) Yikes. You don't listen to music. I doubt you even like it. You strong... Read more
You scored $(Visual)% Visual, $(Aural)% Aural, $(Kinesthetic)% Kinesthetic and $(Intellectual)% Intellectual! Brilliant! You eat music for breakfast, lunch, dinner, and snacks. ... Read more
You scored $(Visual)% Visual, $(Aural)% Aural, $(Kinesthetic)% Kinesthetic and $(SecretMix)% SecretMix! AVERAGE! In the world of false dichotomies, where there is performer and ... Read more
Take this test »
Recent Results
Tests others are taking