The Donnie Darko Test
Their result for The Donnie Darko Test ...
Churrita Chen
You're a 44% Donnie Darko fan!
You think you know Donnie, but you don't know much! Keep doodling his name on your books some more and you might just remember more about him.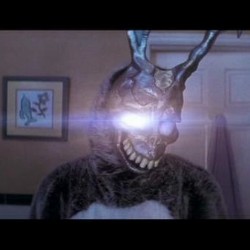 Their Analysis
(Vertical line = Average)
They scored 44% on knowledge, higher than 13% of your peers.
All possible test results
Just like Mrs. Farmer, you seem to hate Donnie Darko. Tsk, tsk. Read more
Where you too busy watching kiddie porn and not paying attention to the movie? Perhaps you should try and watch it again. Read more
You think you know Donnie, but you don't know much! Keep doodling his name on your books some more and you might just remember more about him. Read more
You know Donnie as well as a good girlfriend (or boyfriend) should. Looks like the only one who knows Donnie better is Donnie himself... Read more
You must have watched this movie many times, because you know it almost as well as Donnie himself. Hooray for you! *gold star* Read more
Take this test »