The Daily Life Challenge Test
Their result for The Daily Life Challenge Test ...
REALITY ARCHITECT
you're rated ###% !
WHOA NELLY! Hide the knives, ma! Hell, you might want to hide the forks too, because we got ourselves a real live REALITY ARCHITECT here! Bless your pointy little head. You are the rarest and most dangerous breed of human kind. A misfit. An outlaw. You are called a REALITY ARCHITECT because you activly consturct the rules of your own existence. You are part of that weird freakish cutting edge of livers. You plow the fields of reality with actions that might take generations to harvest- and you like it that way. To be appreciated in one's own lifetime is for SQUARES. With that in mind, make mine a double scoop! You have been severely sun burned at some point. You are moral. You are just. You might be a criminal. You might not be right, but you are RIGHT NOW! The better half of conciousness thanks you for it! CHEERS!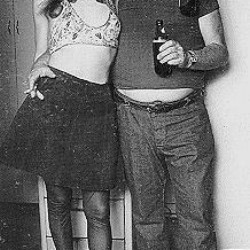 Their Analysis
(Vertical line = Average)
They scored 91% on stylepoints, higher than 100% of your peers.
All possible test results
My goodness! you rated a BETA EXISTER, and thats just plain NO GOOD! It seems that somewhere along the line, you gave THE MAN the big thumbs up to get YOUR KICKS FOR YOU. something must be done, ... Read more
Things are alright. Things are going smooth. Your more than a survivor, your an EXISTER. Work can be kind of a drag, but with two dollar off margaritas an Don Pablos and some good friends, we'll ri... Read more
YOU put the BOP in the bop shu bop. YOU have placed the RAM in the ramma lamma ding dong. YOU are the honorable and notorious REALITY ENTHUSIANT. You could be parked at some suburban chain restaurant ... Read more
WHOA NELLY! Hide the knives, ma! Hell, you might want to hide the forks too, because we got ourselves a real live REALITY ARCHITECT here! Bless your pointy little head. You are the rarest and most ... Read more
Take this test »