The Dark Side Test
Their result for The Dark Side Test ...
Lust for Power
You scored 36 sithness!
POWER!!! The ultimate accessory. The Dark Side seduced you with the thought of tantalizing realms of power. The power to conquer worlds, the power to command vast armies, the power to control the remote. All fear the wrath of your mighty hand, which squishes those who defy you into slimy goo. When you are the most powerful being in the galaxy, you have nothing and no-one to fear...right?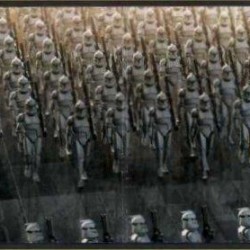 Their Analysis
(Vertical line = Average)
They scored 36% on sithness, higher than 21% of your peers.
All possible test results
Dark Side, Shmark Side. You, my friend, are a Jedi and proud of it. You refuse to allow negative emotions to touch you or taint you. You own naught else besides your lightsaber and some togs. And if a... Read more
The Masters are fond of saying, "Fear leads to the Dark Side..." What do you fear? Perhaps you fear to lose a loved one. Maybe it is the fear of the unknown, or of change. Possibly it is fear of Gunga... Read more
POWER!!! The ultimate accessory. The Dark Side seduced you with the thought of tantalizing realms of power. The power to conquer worlds, the power to command vast armies, the power to control the remo... Read more
The Jedi Council ordered you to some little ball of dirt in the Outer Rim, to settle a dispute. You familiarize yourself with the details of the conflict and begin the process of interviewing those in... Read more
The day started off badly. You were late for lightsaber practice because you and some of the other padawans were up late playing sabacc (you lost all your credits, btw). Master Windu reprimanded you o... Read more
Take this test »