The Rate My Art Test
Their result for The Rate My Art Test ...
Almost Talentless
You love my shizznay 37 out of 76
You think some of my stuff is okaaaay... but that most of it totally isn't your style and you think I shouldn't quit my day job. You might pay $1 for one of my pieces... maybe. Well Eminem and I don't like you either. So take THAT. Rate my test yo!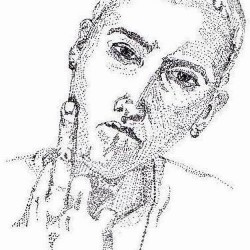 Their Analysis
(Vertical line = Average)
They scored 37% on interest, higher than 20% of your peers.
All possible test results
You'd probably make me cry like the little talent-less ex-hippie artist girl that I am. There's a possibility you might really like one of my pieces and hate the rest passionately... but most likely ... Read more
You think some of my stuff is okaaaay... but that most of it totally isn't your style and you think I shouldn't quit my day job. You might pay $1 for one of my pieces... maybe. Well Eminem and I d... Read more
You might like some of them a lot but over all you could take it or leave it. Bored now! You get the Skeleton drawing I did after playing too many violent video games. Rate my test! Read more
You really like some of my stuff and think some of it is weird or you don't care much either way. You are cool. I love you. Pose for me and I'll give you purple skin with midnight hair and red eyes.... Read more
Wow. You really like my shiznay, don't you? I feel so loved. Let's get married and draw all over each other with fingerpaint. (I already have a wife but she won't mind.) Prove our true love, ra... Read more
Take this test »