The BASIC KNOWLEDGE Test
Their result for The BASIC KNOWLEDGE Test ...
you are s-m-r-t!
Congratulations! You scored ###!
Scoring well on this test doesn't necessarily mean you're ready for med school, but it does mean that you can function as an ordinary human being! Congrats on that and, if you're up to the challenge, go take my
Intermediate Knowledge
test!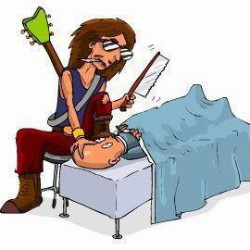 Their Analysis
(Vertical line = Average)
They scored 93% on smrtpoints, higher than 53% of your peers.
All possible test results
Either you chose all the wrong answers on purpose to be funny, have been living under a rock your entire life, or you are just really that stupid. If you are female, you will make a TERRIFIC trophy w... Read more
Maybe you smoked too much pot in high school (or grade school) or maybe you just never cared.. either way, these questions were pretty darn easy and you should probably know them. My suggestion? Do ... Read more
Scoring well on this test doesn't necessarily mean you're ready for med school, but it does mean that you can function as an ordinary human being! Congrats on that and, if you're up to the challenge,... Read more
Take this test »
Recent Results
Tests others are taking