The how German are you Test
Their result for The how German are you Test ...
Not very German
Congratulations! You scored ### German Points!
You might have one or two Germanic tendencies, but overall you aren't particularly German. You might like machines, have a fondness of sausages, or be an avid thigh slapper, but You are culturally different to the average German. Which is not a bad thing. I am totally aware that some of the qualities that make Germany what it is, can be found in all kinds of other cultures (SAUSAGES!!), and I hope that you enjoyed the test and learnt a bit more about Germans and the stereotypes about being one..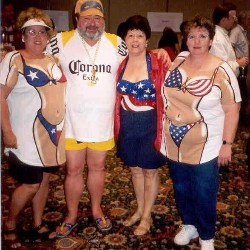 Their Analysis
(Vertical line = Average)
They scored 37% on German points, higher than 7% of your peers.
All possible test results
Dude, did you really think that there is any point to taking this test? Didn't you know the outcome already??? I hope you thought the questions were interesting, but most likely you though this test... Read more
You might have one or two Germanic tendencies, but overall you aren't particularly German. You might like machines, have a fondness of sausages, or be an avid thigh slapper, but You are culturally di... Read more
You are a bit German! See, I told you, almost everyone has a bit of German in them. You probably appreciate good food, quality engineering and you might be a bit of a kinky bugger too ;) So there WA... Read more
Ooh, you probably speak German, know a few Germans in person, and have spent some time in the Country. You are quite likely to actually be German, or at least, European. You like tidiness, and quite ... Read more
If you are not in Germany, you should be. You probably speak German fluently and have an extremely strong sense of orderliness, perhaps to the point of obsessiveness. Shaving below the head is not e... Read more
Take this test »
Recent Results
Tests others are taking