The OkStupid Test
Their result for The OkStupid Test ...
Goddamn Genius
You are 8% incapable of writing an OkCupid test.
Wait, what the fuck?! How'd you do that? This test was rigged so that there was no way in hell that you could ever score as well as you apparently did. I'm impressed. I bow down at your feet. I am but a lowly servant girl unfit to wipe your feet with olive oil and my own hair. Tell all your friends: you are fucking amazing.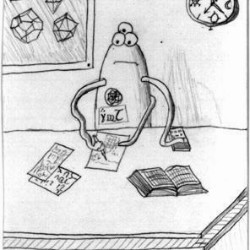 Their Analysis
(Vertical line = Average)
They scored 8% on idiot, higher than 7% of your peers.
All possible test results
Wait, what the fuck?! How'd you do that? This test was rigged so that there was no way in hell that you could ever score as well as you apparently did. I'm impressed. I bow down at your feet. ... Read more
Not bad, not bad. I'm actually rather impressed that you're not a complete waste of space. And though I wouldn't wholly trust you to write an OkCupid test or even your own profile without making som... Read more
You rate somewhere between "relatively capable" and "ignorant as fuck." Don't despair too much, it might lead to a video game-enduced coma, and then you *really* won't be good for anything. Consider... Read more
Well, I suppose you can be proud of yourself that you're not completely fucking stupid, but I wouldn't spend too much time patting yourself on the back. You're just a few small points away from being... Read more
"Sweet Jesus, your dum!" Save yourself all the trouble that it takes to make one of these tests and go read a book. On second thought, read five books. It's not your fault that you were dropped on you... Read more
Take this test »
Recent Results
Mithdraug34 / m / Straight
Tests others are taking