The Hockey Test
Their result for The Hockey Test ...
Congratulations, you're a true fan! You didn't get the highest possible score, which could mean you're a devoted fan but not much of a player, or you just missed some of the obscure (and unfair) questions. But you've impressed me, and what's more, you've justified your existence by your choice of sport. On behalf of the hockey community, thank you.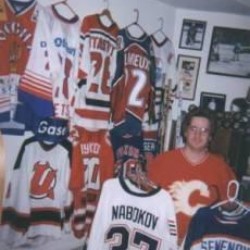 Their Analysis
(Vertical line = Average)
They scored 69% on hockeypoints, higher than 61% of your peers.
All possible test results
I would say that you really don't care about hockey at all, but then why would you have taken this test? If you took "The Hockey Test" for no reason other than boredom, you need to find a hobby. ... Read more
You are probably too far gone to switch allegiances, but I still need to deliver the sour news: you picked the wrong sport. Sure, baseball games are fun to go to sometimes, and they can be very excit... Read more
Ah, there is hope for you. You have much to learn about hockey, but you've bestowed your casual fandom on the right sport, and that proves that you have taste. Unless you're one of those people wh... Read more
Congratulations, you're a true fan! You didn't get the highest possible score, which could mean you're a devoted fan but not much of a player, or you just missed some of the obscure (and unfair) quest... Read more
Wow. Impressive. Are you directly involved in hockey somehow? If you are, I'd appreciate some free tickets to whatever team you coach or play for or sharpen skates for. And, if you're an attractive fe... Read more
Take this test »
Recent Results
courtway27 / m / Straight
Tests others are taking