The Ferris Bueller Test
Their result for The Ferris Bueller Test ...
A Friend of Ferris
Congratulations! You scored ###%!
You may have chatted with him in the halls at school. But you really need to find out more about him. He can make your life a lot easier. If you ever need a favor, give him a call.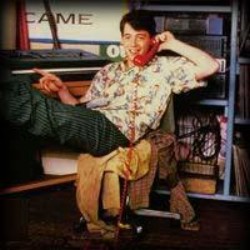 Their Analysis
(Vertical line = Average)
They scored 59% on Righteouspoints, higher than 4% of your peers.
All possible test results
If not then I highly recommend running out right now and picking up a copy. There is a huge void in your life that needs to be filled! Read more
I guess you may have heard of Ferris Bueller. Maybe you were out buying popcorn or using the facilities durring this movie. You really should see it again. Read more
You may have chatted with him in the halls at school. But you really need to find out more about him. He can make your life a lot easier. If you ever need a favor, give him a call. Read more
You have gone on exciting joy rides with him. You have crashed the parade with him. You have stood on the top of the Sears Tower with him. You have enjoyed the finer things in life and haven't been ca... Read more
You are larger then life. Blessed with a magical sense of serendipity. A model for all those who take themselves too seriously. You know the value of a day off. You are Bueller, Ferris Bueller! Read more
Take this test »
Recent Results
davida_43 / f / Straight
mcm27347 / m / Straight

RShackleford5321 / m / Straight
Tests others are taking