The Music Snob Test
Their result for The Music Snob Test ...
Semi-snob
Well looky there, you got ###%.
You probably think of yourself as a snob, and are to some degree but believe me, there are snobbier snobs out there. And they will eat you alive. Be content to stay away from pop music and listen to whatever you like, just don't brag too much about being a music snob, it could be dangerous.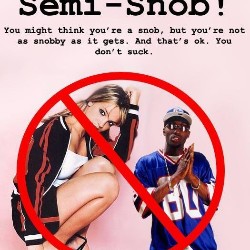 Their Analysis
(Vertical line = Average)
They scored 74% on snob-points, higher than 89% of your peers.
All possible test results
Music snob? HAH. You probably don't even want to be called a music snob. However, if you do try to call yourself a music snob, don't. Ever again. Or else some actual music snob will come after you, an... Read more
You probably think of yourself as a snob, and are to some degree but believe me, there are snobbier snobs out there. And they will eat you alive. Be content to stay away from pop music and listen to... Read more
You are the snobbiest of snobs! You devour those Radiohead and Bjork lovers that think they're something special. You probably know more obscure bands and genres than I do. Go you. Read more
Take this test »