The Which Lost Character Are You Test
Danielle
"You have three choices: run, hide or die."
You are Danielle Rosseau, the French woman. You are clearly out of your mind. You are lacking in kindness and you are not very courageous, but you have a seedy past and you are very secretive. But who can blame you? You've been stuck on that damn island for so long you don't know
what's
going on anymore. Maybe if you could find Alex, you would calm down a bit.
Your polar opposite is:
Boone
.
You are similar to:
Ethan Rom
and
Locke
.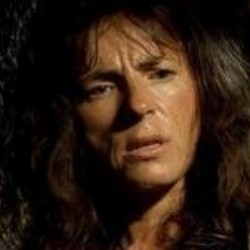 All possible test results
"You know why they call it 'down under?' Because it's closest to hell without getting burned." You are a cold, unscrupulous person who would rather look out for yourself than others... Read more
"You bring her here. If you don't, I will kill one of them. If you fail to bring her, then I will kill another, and another. Oh, and Charlie, I will kill you last." You are Ethan Ro... Read more
"John Locke killed my brother. Would you do something about that?" You are Shannon. You are bitchy, whiny, and selfish. You expect everything to be handed to you, and if it isn't,... Read more
"You have three choices: run, hide or die." You are Danielle Rosseau, the French woman. You are clearly out of your mind. You are lacking in kindness and you are not very courageo... Read more
"Stay away from my son. And me." You are Michael. You are strong, brave, and a little paranoid. You're not the most social person on the island, but you don't mind. As long as yo... Read more
"You're not going crazy, Jack. Crazy people don't think they're getting crazy. They think they're getting saner." You are John Locke. You are skilled, intelligent, fearless, secret... Read more
"Well. . . Your father. . . Your father gave permission." You are Jin. You are not exactly a kind person, but you are courageous, stubborn, and strong. You are a good worker and p... Read more
"Baby, I am tied to a tree in a jungle of mystery. I've just been tortured by a damned spinal surgeon and a gen-u-ine Iraqi. Of course I'm serious!" You are Sawyer. You aren't reall... Read more
"Don't talk to me about the baby. I'm sick of everyone telling me what to do." You are Claire. You are a very kind and caring person. You're not the bravest on the island, but you... Read more
"For the record, my belt HAS dropped a notch. I'm a big guy. It's gonna be a while before you're going to want to give me a piggy back ride." Dude, you are Hurley. You are a kind s... Read more
"Don't talk to me about the baby. I'm sick of everyone telling me what to do." You are Claire. You are a very kind and caring person. You're not the bravest on the island, but you... Read more
"Hmm. I have this dream. I'm driving a bus. And my teeth start falling out. My mum is in the back. Eating biscuits. Everything smells of bacon. It's weird. 'Course then I wake up screaming."... Read more
"I know you made a promise. I'm letting you off the hook. Let me go, Jack." You are Boone. You are kind and brave, with a slightly less checkered past than your fellow survivors. ... Read more
"We're not savages, Kate. Not yet." You are Jack. You are compassionate, heroic, and a bit of a martyr. You are brave and a natural leader. However, you shouldn't keep so much bo... Read more
"Hope is a very dangerous thing to lose." You are Sayid. You are kind, strong, brave, and intelligent. You have a tragic past that the others know little about. You, like Jack, a... Read more
"No girl's just like me." You are Kate. You are caring, brave, stubborn, and persistent. You have a checkered past that haunts you. You have yet to tell anyone t... Read more
"Don't open it. Don't open that thing." You are Walt. You're a kind person who is eager to talk to everyone and absorb all the crazy things that are going on around you. Since you... Read more
"Do you think all this, all we've been through... do you think we're being punished?" You are Sun. You are very, very kind, but also very secretive. You have not shown much braver... Read more
"Don't open it. Don't open that thing." You are Walt. You're a kind person who is eager to talk to everyone and absorb all the crazy things that are going on around you. Since you... Read more
"Dude, I know how this works. This is gonna end with you and me running through the jungle, screaming and crying. He catches me first because I'm heavy and I get cramps." Dude, yo... Read more
"I know you made a promise. I'm letting you off the hook. Let me go, Jack." You are Boone. You are kind and brave, with a slightly less checkered past than your fellow survivors. ... Read more
"Three days ago, we all died. We should all be able to start over." You are Jack. You are compassionate, heroic, and a bit of a martyr. You are brave and a natural leader. Howeve... Read more
Sayid: A boar took your tarp? Maybe he wanted to go camping. Sawyer: Are you enjoying yourself? Sayid: Yes. You are Sayid. You are kind, strong, brave, and intelligent. Yo... Read more
"Driveshaft's albums must have spiked when everybody found out that I died in some catastrophic plane disaster. But when I come back alive ... it's going to be insane!" You are Cha... Read more
Take this test »
Recent Results
Tests others are taking