The Cheese Test
Their result for The Cheese Test ...
a Cheesemonger
Congratulations! You scored 24 Crottins!
People from Dean and Deluca have been calling you with job offers. The smell of rotten anything makes you strangely hungry. You probably own the Cheese Primer. You likely have to include a cheese alowance in your personal budget so you don't over do it. Your cheese sugjestion: Burrata.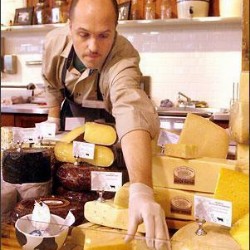 Their Analysis
(Vertical line = Average)
They scored 24% on Crottins, higher than 82% of your peers.
All possible test results
You don't like cheese. Perhaps you are vegan. Or lactose intolorant. Or both. You took the test mainly to see what sort of questions were on it or because I personally made you take it. Your cheese su... Read more
You tell people you like cheese but you really like "cheese". You get havarti with dill, when you are feeling daring, and put it in a sandwich where it belongs. Your cheese sugjestion: Fresh Mozzarell... Read more
You probably have one or two cheeses that you really like. You could put together a competent cheese platter for a party. When you go into a deli you are not afraid to ask for samples. Cheese for you ... Read more
People from Dean and Deluca have been calling you with job offers. The smell of rotten anything makes you strangely hungry. You probably own the Cheese Primer. You likely have to include a cheese alow... Read more
You are the first American to be awarded France's prestigious Chevalier du Taste-Fromage. You have created and/or revamped the cheese counters at Dean & DeLuca, the Fairway Market, Balducci's, and oth... Read more
Take this test »