The Outdoors-Person Test
Their result for The Outdoors-Person Test ...
The Biologist
31% Hick, 88% Nature-Loving and 59% Technical!
You love nature and all of its complexities.  You love learning, cataloging, analyzing and probably photography.  You can identify plants, tell neat stories about animals, and start a fire, the sustainable way.  You know and have all the gear necessary to make a successful outing, and you have the appreciation for nature to take it all in respectfully.  Take some Gear Heads and Country Bumpkins with you, but not Warriors because they would stress you out.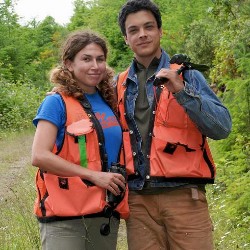 Their Analysis
(Vertical line = Average)
They scored 31% on Hick, higher than 25% of your peers.

They scored 88% on Nature-Loving, higher than 90% of your peers.

They scored 59% on Technical, higher than 75% of your peers.
All possible test results
Are you proud of yourself?  You should be.  Because you pretty much are the outdoors.  You truly are the ultimate outdoors person.  You have the technical know-how and ability to tackle p... Read more
You love nature and all of its complexities.  You love learning, cataloging, analyzing and probably photography.  You can identify plants, tell neat stories about animals, and start a fire, the sust... Read more
Since you're currently using the internet, it's clear you're not physically in the place where you'd rather be: in the country.  The hustle, bustle, structure and rules of the city have tired you and... Read more
Like an eternal child, you love your toys.  And I bet you have some good ones.  You have the technical know-how to find/modify/create awesome machinery and the sense of fun and freedom to ride the c... Read more
Nature is your mother and you hear her call.  You even answer back, because you're on her level.  The outdoors are your home, but you exist with them in harmony, seeing no need to rape or pillage yo... Read more
There's nothing you can't do, because there's nothing you don't know.  You've read the books, you've taken the classes, you've done the research and then done the shopping.  You've probably crafted ... Read more
Class has never been your forte, but then you've never cared.  You feel at home outside and embrace it as your playground.  And you know how to play; booze, music and fire are a staple, as are frien... Read more
Admit it.  You took this quiz just so you could paste the result to your friends so you can all laugh as it confirms what you all already know: you're not much of an outdoors person.  You don't like... Read more
Take this test »