The Who Shot Ya Test
Their result for The Who Shot Ya Test ...
(the late) Biggie
We reckon you're about ###% suicidal.
Well he always talked hard, but somehow he rose from his grave, went to the nearest surplus store and packed some serious heat just to teach you a lesson. Or maybe he killed you lyrically, I don't know. I guess you should be proud you were shot by one of the finest though :)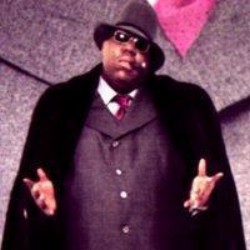 Their Analysis
(Vertical line = Average)
They scored 44% on suicidal points, higher than 82% of your peers.
All possible test results
Yeah that's right, I shot you! And I did it for free, too! It was only because you sound like a decent person, and don't worry - it was only with a water pistol too. Ladies, if you score this, serious... Read more
Luckily for you, he missed. Read more
While you were out walking in a secluded field with your mates, a little divine intervention took place and WHAM! a bolt of lightning strikes your ass where it hurts. Your friends gaze upon you and st... Read more
Well he always talked hard, but somehow he rose from his grave, went to the nearest surplus store and packed some serious heat just to teach you a lesson. Or maybe he killed you lyrically, I don't kno... Read more
Okay, not so secret - they're an American SWAT team. Looks like someone did the "normal" person thing and anonymously alerted the police to your presence. Let this be a small lesson, one which many si... Read more
Forget the licence to kill, when a secret agent is called out to assassinate you, you know you've done something particularly bad. My guess is that you gave bad answers to a good handful of the questi... Read more
Imagine being woken up in the middle of the night to a cold gun pointed at your neck and a rough voice shouting "Freeze!" For your crimes against humanity, they had to send in a video game character t... Read more
You've pissed so many people off, the Terminator came back in time for the sole purpose of making you pay for your crimes. You should be ashamed of yourself, go and pay those poor people back their mo... Read more
Take this test »