The Cliche Lesbian Test
Their result for The Cliche Lesbian Test ...
Total Butch!!
You Scored 190 out of 210 Cliche Points!
Because butch lesbians are the most visible and easiest to pick out of a group, seriously even Ray Charles would know you are a lesbian, they tend to be the most "cliche". This isn't necessarily a bad thing, the reason most things become stereotypical and cliche is because it's the example from which they can compare. Fret not, oh Butch One, you are still the King of the Hill in the Lesbian World; and I would bet money there are at least 5 women out there drooling over you, just waiting for you to make a move.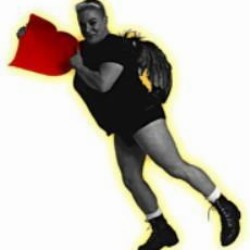 Their Analysis
(Vertical line = Average)
They scored 190% on variable 1, higher than 99% of your peers.
All possible test results
You are so femme that other lesbians probably can't pick you out of the crowd. You are probably often overlooked in clubs as the straight girl who came with friends. You are the furthest from the le... Read more
You are the lesbian that people are always trying to pin down and label. You can pass as a tomboy-ish straight girl and often have both men and women vying for some attention from you. You are happi... Read more
Because butch lesbians are the most visible and easiest to pick out of a group, seriously even Ray Charles would know you are a lesbian, they tend to be the most "cliche". This isn't necessarily a ba... Read more
Take this test »
Recent Results
Tests others are taking