The Psychotic Bunny Test
Their result for The Psychotic Bunny Test ...
Militant Bunny
You scored 73% Psychotic Bunny!
You're a no bullshit bunny. You believe in bunny rights, and damnit, you're going to fight for it. The vile human enslavers will pay for their treatment of bunnykind; you'll fight bunny tooth and bunny nail to free your brothers and sisters, and when the fight is won, it'll be the humans locked in cages eating your table scraps. When the bunny revolution comes, you'll be in the front lines fighting for bunny freedom.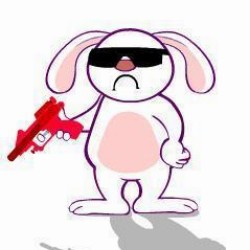 Their Analysis
(Vertical line = Average)
They scored 73% on variable 1, higher than 69% of your peers.
All possible test results
You're a fluffy and nice bunny, prefering ribbons and cuddles than tearing at the flesh of your human captors. You take all the abuse the vile human race can dish out to you, while making cute bunny n... Read more
You're a scared bunny, unwilling to take the abuse of the vile humans, and unable to stand up for your bunny rights. But you do realise that humans are your cruel captors, and with the help of your bu... Read more
You're a no bullshit bunny. You believe in bunny rights, and damnit, you're going to fight for it. The vile human enslavers will pay for their treatment of bunnykind; you'll fight bunny tooth and bunn... Read more
You embody the psychotic bunny. You are relentless in your disgust for the vile human race, and remorseless in the unique and bloody ways your bunny mind can inflict the greatest amount of pain and su... Read more
Take this test »