The Japanese Demon Profile Test
Their result for The Japanese Demon Profile Test ...
Mukade
You scored 22 in Malice and 11 in Chaos!
Not an ordinary arthropod, the Mukade, or demon centipede, is a grotesquely oversized monstrocity which preys on unsuspecting humans who travel too close to its lair. Minimally intelligent, the centipede knows only to devour any living thing unlucky enough to trespass its domain, human or demon. The centipede is several times larger than a man, and can only be killed with blessed artifacts or divine intervention.

This demon certainly has no other goal than to cause harm to those who cross it, but is little more evil than its smaller counterpart; like most demons, some are capable of taking the form of a human, but most prefer to simply live the life of a predator-- albeit on a somewhat larger scale.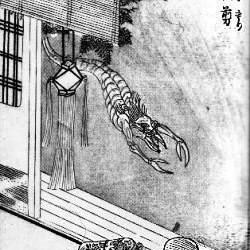 Their Analysis
(Vertical line = Average)
They scored 22% on Malice, higher than 82% of your peers.

They scored 11% on Chaos, higher than 4% of your peers.
All possible test results
Reikon are the Japanese equivalent of human souls. As a Reikon, you are no more or less evil than any normal human, and will probably end up either in heaven or hell. One thing is for sure; when you d... Read more
Tanuki are a species of "Henge," or animal shapeshifters; like the Tengu, Tanuki are not particularly evil, but love to play tricks on mortals. Tanuki love sake, and often transform into humans solely... Read more
Tengu are birdlike demons which inhabit the woodlands and mountains. They come in two classes: Higher tengu and lower tengu. Higher tengu occupy their own kingdoms which mirror those of humans; they d... Read more
Japanese dragons, or "Ryu," are very different from their Western counterparts; where the Western dragon is typically reptilian, with a heart as cold as its blood, the dragons of the Orient actually t... Read more
Rokuro-Kubi are perhaps the strangest of all the demons; by day, they appear to be normal normal humans, but at night, they lay down in a secluded place, where their heads detach from their bodies and... Read more
A Kappa is a "suijin," or water demon of Shinto mythology. They may be found in or near large bodies of fresh water, e.g. lakes, rivers, and streams, where they live and hunt. Kappa look like a human/... Read more
The Yuurei are the lost souls of those whose lives were abruptly ended in the midst of great distress or emotion. They are pale, white spectres nearly indistinguishable from humans, except that they p... Read more
You are the Kitsune, or "Fox demon," the ultimate doer of mischief. Kitsune belong to a class of demons known as "Henge," or animal shape-shifters, along with the Tanuki, or badger-demon. They are un... Read more
Not an ordinary arthropod, the Mukade, or demon centipede, is a grotesquely oversized monstrocity which preys on unsuspecting humans who travel too close to its lair. Minimally intelligent, the centip... Read more
Yuki-Onna manifests herself as an irresistably beautiful maiden clad in a white kimono, pure and inviolate. However, appearances are deceiving; her skin is pale and her breath like frost; she appears ... Read more
The Obake-Yuurei is like a regular Yuurei, or ghost, except much more malevolent. Obake-Yuurei are the souls of those who died in great anger or heartache, and continue to wander the earth in search o... Read more
Malevolent Yuurei may also be known as "Gaki-do," or "Hungry Ghosts," doomed to walk the earth forever in an attempt to slake their insatiable hunger with human flesh. Gluttonous and proud in life, Ga... Read more
The Jyorougumo, or "Spider demon," is a demon of the class "Henge," or shape-shifting demons. Jyorougumo is a terrible beast which normally disguises itself as a woman, much like a cat-demon, in order... Read more
Obakeneko, or "Cat demons," are another subset of the "Henge," or shape-shifter demons. Obakeneko are rarely seen in their true form, preferring instead to transform into beautiful women. On the surfa... Read more
Oni are large and intimidating demons whose ferocious appearance matches their wickedness and caprice. The Oni are representative of human excess, gluttonous in their appetite, uncouth in behavior, an... Read more
Oni are large and intimidating demons whose ferocious appearance matches their wickedness and caprice. The Oni are representative of human excess, gluttonous in their appetite, uncouth in behavior, an... Read more
Take this test »
Recent Results
Tests others are taking