The Greek Mythology Personality Test
Their result for The Greek Mythology Personality Test ...
Odysseus
67% Extroversion, 33% Intuition, 72% Emotiveness, 5% Perceptiveness
You are a generous entertainer, an observer of tradition, and you are an enthusiastic leader. You are most like Odysseus. You meet transgressions with swift retribution but you are, in the end, just and fair. You're also pretty astute -- it's hard to pull one over on you.

You're a very detail oriented person, you take your responsibilities very seriously, and you're highly dependable. You aren't particularly idealistic, and are more apt to practice a kind of situational morality, albeit a pragmatic one that you ensure is amenable to the situation at hand. Your externally defined morality also means that you have a lot of regard for law, tradition, and social structure.

Because you're a sense-oriented person, you may lack the ability to weigh your externally defined morality on a theoretical basis. This can be harmful if you aren't versed enough in the ways of the world to compare the value-system you were raised in against some of the other social and ethical systems in practice around the world. On the other hand, if you were nurtured in a non-sociopathic setting, you will find that you can be a very fair and just leader. Because your ethical code is so contingent upon your upbringing, you may find yourself in staunch and violent opposition to other Odysseus types, as well as the more analytical personalities (such as Hermes, Prometheus and the Oracle).

Leadership and tact are your strongpoints. You are adept in exploiting these to such an extent that, when you make a strategic or ethical error (as the Odysseus type is prone to do from time to time), you can recover and regain your footing in short order. This makes you a natural head of state or military brass.

Famous people like you: Bill Clinton, George Washington
Similar Personality Types: Atlas, Apollo, Pan
Personalities to Avoid: Prometheus, The Oracle, Hermes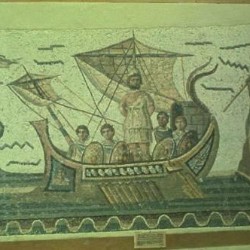 Their Analysis
(Vertical line = Average)
They scored 67% on Extroversion, higher than 87% of your peers.

They scored 33% on Intuition, higher than 22% of your peers.

They scored 72% on Emotiveness, higher than 65% of your peers.

They scored 5% on Perceptiveness, higher than 1% of your peers.
All possible test results
You have a very keen intellect, are interested in the facts and the truth, but you don't have the antiauthoritarian streak of The Oracle or Prometheus. You are most like Hermes. You are dependable t... Read more
You are viewed by others as tasteless, thick-skinned, inflexible, self-absorbed, arrogant and oblivious. You are Narcissus. You seek out high risk jobs, and jobs that allow you to assert yourself ov... Read more
Changing your shape to suit your situation, you are most like Proteus. More than anything else, you need to be wanted. You have a very strong work ethic, and are very adaptable, but are often unappr... Read more
Although deeply emotional, you are extremely lacking in self-knowledge. You are somewhat needy, and when bored, may become very hedonistic. Your life is a quest for meaning, above all else. You are... Read more
You are most like Prometheus, and you probably knew that before you even took this test. You probably aren't deliberately altruistic, but you still tend to do things that benefit everyone, even at gr... Read more
Heuristic, detached, and analytical to a fualt, you are most like The Oracle. You are able to tackle any subject with a fine toothed comb, and you possess an ability to pinpoint nuances and shades of... Read more
You are a normally quiet person with very strong convictions and a marked activist streak. You have a clearly defined sense of right and wrong, and you like seeing people punished for their transgres... Read more
You are an artist, an aesthete, a sensitive, and someone who has never really let go of that childlike innocence. To you, all of life has a sense of wonder in it, and the story of Orpheus was written... Read more
You are a showboat. You have an obsession with pissing contests and novelty. I'm not sure why you have so much compensatory bravado but, whatever the reason, you've always got something to prove. Y... Read more
Arrogant, combative, unscrupulous, cunning... You are most like Agamemnon, King of Mycenae. You are an extreme prick, and you're proud of it. You are always assessing your opponents, looking for the... Read more
You are a generous entertainer, an observer of tradition, and you are an enthusiastic leader. You are most like Odysseus. You meet transgressions with swift retribution but you are, in the end, just... Read more
You are Pan. You're an extremely creative and fun-loving individual. You have a predisposition to acting and performing, and you enjoy it. You're very outgoing, and you are genuinely interested in ... Read more
You totally rock. Even if you don't like Ayn Rand, you're the kind of person she wrote about. You're one of the prime movers. You can think on your feet in a way the imposter Icarus type can only d... Read more
You are most like Daedalus. You are extremely clever and inventive, but your methods can be very unorthodox. When faced with a setback, you're more likely to try to defeat it with sheer determinatio... Read more
You are most like Apollo. You are charismatic, and you act as a teacher and a pedagogue in most circumstances (this teaching instinct is reflected in myth by Apollo's slaying of The Oracle's Python).... Read more
Funloving, talkative, flamboyant, social... you are most like Aphrodite. You love parties, people, fashion, and sex. You're impulsive, inconcise, and you find crowds and parties to be energizing. Y... Read more
Take this test »
Recent Results
Tests others are taking