The misery Test
Their result for The misery Test ...
happy-go-lucky
Congratulations! You scored ###!
If you're happy and you know it clap your hands!!! Yeah , right, you love life and just don't understand why some people are so miserable. But consider this: one day you will die! eventually, you will be forgotten! life does not improve with age, there's lots of misery still ahead!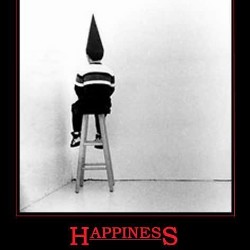 Their Analysis
(Vertical line = Average)
They scored 24% on whateverpoints, higher than 10% of your peers.
All possible test results
If you're happy and you know it clap your hands!!! Yeah , right, you love life and just don't understand why some people are so miserable. But consider this: one day you will die! eventually, you will... Read more
Wow! Amazing! You're so normal it hurts! Some days you're happy, some days you're sad. You do know (on a probably not so conscious level) that you too will one day die, but you don't worry about it to... Read more
if you're reading this you're probably already bleading to death...or choking on a cyanide pill. who cares! Read more
Take this test »