The 'Do I Matter' Test?
Their result for The 'Do I Matter' Test? ...
Gamma
You scored 3 out of 80 points. You're not much of a go-getter, are you?
You're a Gamma. That puts you in the average range, which quite frankly, still isn't good. I mean, who wants to be an average anything? "Average people," that's who, so I guess you should feel happy, after all. You're one of those optimistic fools who "looks at the bright side of things" and never strives for anything greater because what you've got is "good enough" and you're not lacking enough to notice you need, or want, anything more. The curse of being "average" is that you're too content and comfortable to want to be anything special and not hungry and desperate enough to dream for it. Worse off people usually dream bigger and work harder than you do. I guess that's okay and it works for you, but you'll never be anything noteworthy. You'll work a ho-hum job you moderately dislike, marry a boring partner, have 2.5 equally boring children, and only close friends and family members will know you even exist in this world. I guess there are worse things... (Anyone who scores between zero and 20 points falls in this range. Anything above 65 is reserved for the elite, with 80 being the highest you can get, and -80 being the lowest.)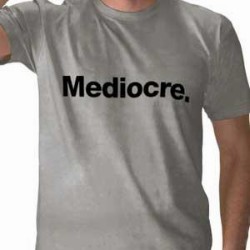 Their Analysis
(Vertical line = Average)
They scored 3% on Greatness, higher than 19% of your peers.
All possible test results
DAMN!!! Okay, how did you pull that off? You scored close to a perfect score! You have everything it takes to be a legend in your own time. They'll name schools, streets, and holidays after you! Y... Read more
Congratulations! You're the Alpha dog! You are on the level on A-list super celebrities and presidents! You have what it takes to go far and surely what it takes to influence lives, and change the ... Read more
You're a Beta! And before you think that's a bad thing, it's actually good! In the report card of life, you get a B+. Beta are high level politicans and successful buisnessman. They think greater a... Read more
Wow... you're a Delta, huh? What that means is you are somewhere on the level of a day laborer or an adult fast food employee. No, you don't really matter much at all, and any job you do could be p... Read more
You're a f**king Epsilon?!? How did you even get this? Man, you suck. Not to be mean or rude, but god damn, you're a mess! Do you know who are Epsilons in this world? The homeless and midgets, that... Read more
You're a Gamma. That puts you in the average range, which quite frankly, still isn't good. I mean, who wants to be an average anything? "Average people," that's who, so I guess you should feel happ... Read more
Take this test »
Recent Results

neinneinokfine23 / f / Straight

NothingSoNovel41 / f / Straight

emmasofia2316 / f / Straight
Tests others are taking