The Adult ADD/ADHD Screening Quiz
Their result for The Adult ADD/ADHD Screening Quiz ...
HIGHLY ORGANIZED
You scored 33 points on this Adult ADD Screening.
You are likely highly organized and highly focused.  It is likely that you rarely have difficulty constistently paying attention during conversations.  You likely find it easy to keep your place when reading long texts, even when the subject matter is not interesting to you.  You likely have very little difficulty retaining information, even when it is not of interest to you.
You scored in the lowest range on this quiz. Your answers to this adult ADD/ADHD test do not suggest that you are in the range associated with a high probability of ADD/ADHD.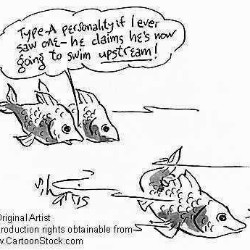 Their Analysis
(Vertical line = Average)
They scored 33% on ADD, higher than 29% of your peers.
All possible test results
You are likely highly disorganized and have great difficulty staying focused.  It is likely that you often have difficulty consistently paying attention during conversations, especially in groups.... Read more
You are likely moderately disorganized and have some difficulty staying focused.  You might sometimes have difficulty consistently paying attention during conversations, especially in groups.  Yo... Read more
You may be a little absent-minded from time to time, but most of the time you are organized and focused.  You probably do not have difficulty consistently paying atte... Read more
You are likely highly organized and highly focused.  It is likely that you rarely have difficulty constistently paying attention during conversations.  You likely find it easy to keep your pla... Read more
Take this test »
Recent Results
Tests others are taking