The misquoted lyrics Test
Their result for The misquoted lyrics Test ...
Praise chesus!
Domo Mr. who? You scored ###!
You did it. What do you want, a medal or something? It's just a stupid net quiz... Oh alright, alright. BRAVO! I'll bet you're a lyrical master, a genius! Now all you need to do is move out of Grandma's basement, and brag to the world! Good for you!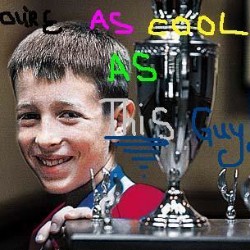 Their Analysis
(Vertical line = Average)
They scored 23% on tongue-tied pts, higher than 63% of your peers.
All possible test results
You are shameful! I can't even stand to look at you! You have to be either completely deaf, stoned, stupid, or not a fan of the music. Seeing as it is impossible for me to imagine someone having a dif... Read more
Guessing. That's what you HAD to have been doing. Could anyone really be this bad? Friend... you need yahoo, or spell check. May the bird of paradise fly up your ... your um... ah hell. Read more
Not the most pathetic score I have ever seen... however, you take the bippity boppity out of cinderella, the back in black out of aerosmith, and you give foriegn karaoke writers a run for their dollar... Read more
You did it. What do you want, a medal or something? It's just a stupid net quiz... Oh alright, alright. BRAVO! I'll bet you're a lyrical master, a genius! Now all you need to do is move out of Grandma... Read more
Take this test »