The Bacon Test
Their result for The Bacon Test ...
Normal Human Being
How boring.
You eat bacon, but you wouldn't include it as one of your interests on an OkCupid profile.
You probably only eat it at breakfast, which actually strikes me as a little odd.
I probably wouldn't want to be your friend.
Well, maybe if you bought me some bacon...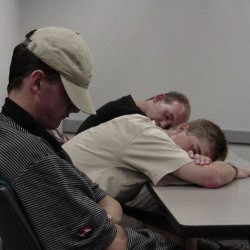 Their Analysis
(Vertical line = Average)
They scored -20% on BaconLove, higher than 24% of your peers.

They scored 0% on Psycho, higher than 32% of your peers.
All possible test results
I don't care how much you like bacon, you don't shoot kittens, puppies, or babies in the head with a shotgun! You just don't do that!!! What... Read more
I'm going to assume that you are over 1000 lbs in weight. Your love of bacon is so great that I can only assume that you're already lying in a hospital bed awaiting ... Read more
Bacon is one of your favourite things in life. As such, we will allow you to join our club. Meetings are held on the second Thursday of the m... Read more
You eat bacon, but you wouldn't include it as one of your interests on an OkCupid profile. You probably only eat it at breakfast, which actually strikes me as a litt... Read more
Your blood-bacon levels are dangerously low. Science has proven that such bacon deficiency will melt your mind, curve your spine, and keep the Allies from winning the war. You should ... Read more
Take this test »