The Islamic Knowledge Test
Their result for The Islamic Knowledge Test ...
Muslim Expert
You have 87 Islamic Knowledge!
Are you already Muslim? This test thinks you are! Congrats on your extensive knowledge on Islam, I am very proud of you. If you made a mistake somewhere, check the answer key in my journal after June 15, 2006. UPDATE: ANSWER KEY NOW AVAILABLE! GO TO MY JORNAL! w00t!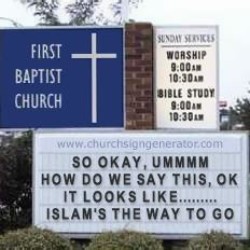 Their Analysis
(Vertical line = Average)
They scored 87% on knowledge, higher than 71% of your peers.
All possible test results
I'm afraid you didn't do very well at all. Not to worry, though - lots of people have misconceptions about Islam. May I suggest looking up your answers in the answer key? UPDATE: ANSWER KEY NOW AV... Read more
Well, you could have done worse! Actually, you didn't do very poorly at all...I'm glad you got some of the questions correct. Perhaps you would like to learn more about Islam? You should visit the ... Read more
Well done! I'm willing to bet that you have had a previous interest/experience with Muslims. If you don't know where you made mistakes, you can further educate yourself by visiting the answer-key in... Read more
Are you already Muslim? This test thinks you are! Congrats on your extensive knowledge on Islam, I am very proud of you. If you made a mistake somewhere, check the answer key in my journal after Ju... Read more
Take this test »
Recent Results
Tests others are taking