The how cool are you Test
Their result for The how cool are you Test ...
Fonzie
Holy Shit! You are ### percent cool!
Congratulations! You are a Fonzie, the coolest of the cool. The most charming, and smartest hipster of them all. Cool as a cucumber, people love you. Everyone wants to be your friend, and everyone respects your opinion. You know what's going on, and you handle yourself very well. You can be a rebel, and you can woo the ladies, or fellas like no other. But you know what's right, and what's wrong. You're not willing to go overboard, or to let people push you around. Even though you are the coolest you still look out for the little guy. My advice for you, keep it up! We need more of your kind in this world. Would you like to go out sometime? ;)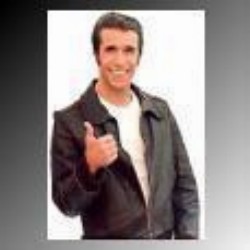 Their Analysis
(Vertical line = Average)
They scored 91% on coolies, higher than 97% of your peers.
All possible test results
Sorry, Dude, but you are the least cool a person can possibly be. It's no wonder you have no friends, because you are LAME! People can sense the disgusting things you do behind closed doors, and it ma... Read more
You think you're too cool for school, but you aren't. Ahhh, the infamous Zoolander. You're the sadly misled type. Everyone allows you to keep up the charade of your cool factor, but inside they are... Read more
Ahhh the dorky best friend. You in my book are the coolest, but unfortunately the majority disagrees. You have to play side kick to the cool guy, and it's starting to piss you off. Fortunately for ... Read more
Congratulations! You are a Fonzie, the coolest of the cool. The most charming, and smartest hipster of them all. Cool as a cucumber, people love you. Everyone wants to be your friend, and everyone ... Read more
Take this test »