The Hippy Factor Test
Their result for The Hippy Factor Test ...
Total Hippy
and you'r hippiness is at .. ###%
Can I live with you! or travel with you!.. I'll let you play my guitar! no compromises full hippy and proud, by my own test I'd come out a mild hippy ,you guys are the true flower children, keep up the lov'in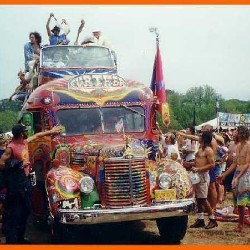 Their Analysis
(Vertical line = Average)
They scored 77% on Hippybongo's, higher than 83% of your peers.
All possible test results
Right okay, either you've got some deep seated hatred for hippy kind or you're just.. evil!!!! i mean.. Molotov cocktailing people for a start bad bad boy/girl!.. no cookie for a week Read more
Hipiness is a state of mind, and there aren't any any obvious signs of it in of you.. Not that this test is either serious or 100% effective! you're not a bad person far from it, in fact a lot of m... Read more
Greetings brother!/sister, we are a result of hippies forced too live in society, we make compromises too fit in but the hippiness is still very close too our heart! keep up the fight and blessings! Read more
Can I live with you! or travel with you!.. I'll let you play my guitar! no compromises full hippy and proud, by my own test I'd come out a mild hippy ,you guys are the true flower children, keep up... Read more
Take this test »