Test Your Gay "Manhood"
Their result for Test Your Gay "Manhood" ...
You're a Gay Guy!
You're masculine enough to fool a girl... for a drink or two.
You like to keep it clean, active, and fairly trendy. You have your "gay" moments, but its all in fun... 
Screw the fashion, come on let's be honest--- It's all about the fun. 
Gay Guys--- inevitable find the female in the room and bond instantly. She has no idea why you're so cool, and she even wants to dance!
The cool part is, you'll probably dance with her if not entertain the thought!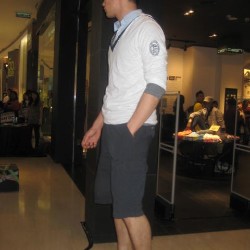 Their Analysis
(Vertical line = Average)
They scored 54% on Masculinity, higher than 18% of your peers.
All possible test results
What's up bro. You like hanging with your boys and shooting the sh*t. Pass that to me next by the way...   Yeah, we can hang out. Bring a D... Read more
You are the dude. You know how to dress fairly well, you keep it clean, but you're not soft. As a matter of fact, you're the man. You roll with straight guys pretty often, your gay friends ... Read more
You like to keep it clean, active, and fairly trendy. You have your "gay" moments, but its all in fun...  Screw the fashion, come on let's be honest--- It's all about the f... Read more
In London a "Puff" is a cigarette. Sure a Puff THINKS no one know's he's gay... but they do. They definitely do. You may act the straightest among your friends... ... Read more
Your bathroom accessories, hair styles (maybe even hair color choices), TV show line-up's and "picture" face--- give it all away. Your female friends can't do without you, and you can't do w... Read more
You're a Free Bitch Baby! Read more
Take this test »
Recent Results
Tests others are taking